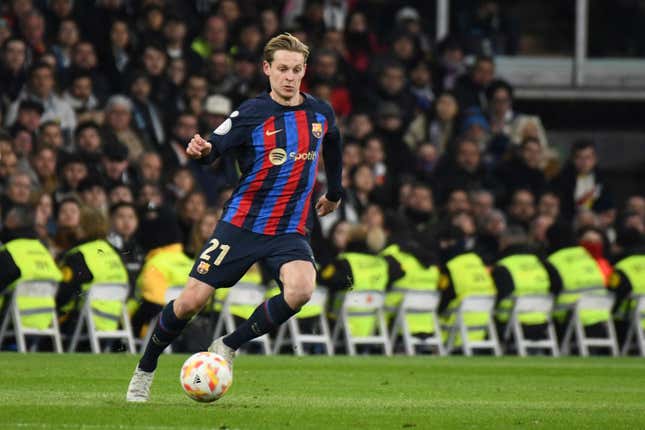 Yesterday's El Clasico between Barcelona and Real Madrid, and Barcelona's 2-1 win, is the perfect microcosm of where Barcelona is now. While they were much the better team, the win still came, in some ways, by the slimmest of margins. Marco Asensio's apparent winner late was ruled out by him being no more than a foot offside, and Franck Kessie's actual winner soon followed on a counterattack as Madrid pressed and pressed for a winning goal that would have kept the La Liga race alive. It sounds strange to say about a team that is now 12 points clear at the top and will canter to the title, but considering how Barca had to dodge, duck, dive, dip, and dodge their financial restraints to build this now championship team last summer, the whole soundtrack could be Megadeth's "Skin O' My Teeth."
Can Liverpool Win The Quadruple? | What You Need To Know | FA Cup
Barca certainly wouldn't have won yesterday without midfielder Frenkie De Jong, who was the best player on display by a distance. De Jong led everyone in chances created, tackles, and dribbles, while also ranking second in passing accuracy behind teammate Andreas Christensen, who had the benefit of getting to play passes to his fellow defenders under little pressure. De Jong did it from the pressure cooker of midfield, where he simply thwacked the entire Madrid trio of Modrić, Kroos, and Camavinga.
That's been the story of De Jong all season, where he's among Barca's leaders in every passing, creating, and defensive category. He's been all-action, as he's kind of had to be as Sergio Busquets's age catches up with him. But like the rest of the team, Barca had to walk a mighty fine tightrope just to keep in the team, even when it certainly felt like they didn't want to and wanted his salary off their increasingly shady books. Like every other margin call with all their levers, it went their way even though it might have been against their wishes originally. The best move is sometimes the one you don't make and all that.
But like everything else with Barca these days, how long can they stay on this tightrope?
When the bill comes due
As mentioned last week when studying Barca's ref-payment scandal/accusation/mess, La Liga's president is saying that before next season, the club is going to have to slash some $200 million off its payroll. That number will be disputed by Barca all through next summer's transfer window, and they'll play their now patented-shell game with levers and tricks to try to fudge that number as best they can. But it will be nearly impossible for them to keep La Liga officials happy without some really hard decisions.
Some decisions have already been made for them. Gerard Piqué retired, which cuts about $15 million in itself. Busquets's contract is up after the season, which should save around $39 million if they just let him walk (though they'd struggle to replace him cheaply). Jordi Alba's deal is up after next season, but he's faded into a more reserve role this season behind Alejandro Balde and both he and the club may seek alternate solutions, which is another $22 million if they can find a new home for him. That's $75-$78 million right there, but they're still a long way from the finish line.
Some trimming around the edges might get them halfway there or close to it, but that may not be enough. Which is where De Jong comes in. He's the club's highest earner, also at nearly $40 million a year reportedly, and he's about the only player they have who would have a serious, serious sale value. Certainly, he would be the biggest sale they could offer, which would help offset what they have to trim from their wage bill to satisfy Spain's FFP rules. If his asking price was around $90 million last year, the rumored number agreed between Barca and Manchester United last summer before De Jong refused to budge, he's probably in the triple digits now.
The problem with selling someone like De Jong, of course, is that you have to replace him. This becomes trickier with Busquets's future cloudy, along with whether or not the club can keep hotshot Gavi around either. If you squint, maybe Gavi and Pedri along with a cheaper-than-De Jong holding midfielder could paper over the cracks, but given everything that's quite a wager. De Jong is a do-everything midfielder just entering his prime years who kicked Madrid up and down the field. These things don't grow on trees, and any replacement surely would eat up a good chunk of the savings selling De Jong would provide.
Much like last summer, De Jong doesn't have to go. He's under contract through 2026 and there are few other clubs that will be happy to pay him the $40 million he's taking down per year now. United might have to wait for a sale of the club to be completed before they know if they can, though one can't rule out Chelsea maintaining the Leslie-Chow-at-Caesars binge they've been on since Todd Boehly took over. He may stick around just because he wants to again.
And because Barca always budgets with the most optimistic views, they'll need him. Their grand plan this season was built on reaching the latter stages of the Champions League. Then it was amended to winning the Europa League when that first pie-in-the-sky outlook crashed and burned. Then that thudded into the ground too. Logic and reason rarely if ever enter the Barca boardroom, so you can bet next year's plan will still be banking on a Champions League run. How do they manage that with no De Jong?
This is the Wallenda routine that Barca will continue to have to deal with to appease the rules and yet maintain a contending team. Everything, mostly, has worked out this year. But you can't live on the wire.