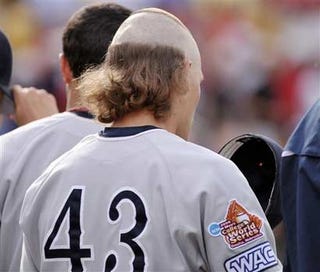 We always forget how much we enjoy the College World Series. It seems to come along at just the right time; the sports world prepares to settle in for a long summer of low-stakes baseball (with the Olympics tossed in this year, just to keep us awake), so having a tournament in which everyone's playing for their lives is a welcome respite. Particularly when they're wearing skullets.
Georgia took a 1-0 series lead last night, and we can only hope Fresno State hangs around long enough to get skullet-ed first baseman Kris Tomlinson as many plate appearances as possible.
Hey, we were in college during grunge; we weren't too far from this, actually.
The Skullet Is No Help To Fresno State [Friends Of The Program]