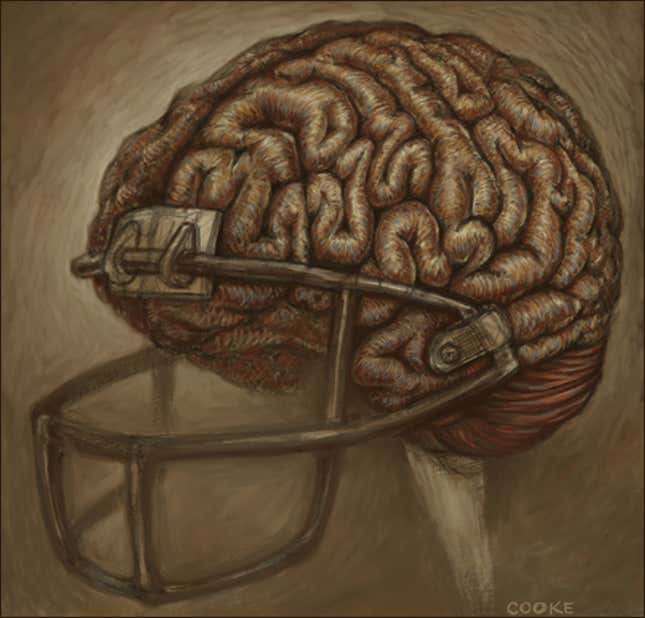 Every year, there are tens of thousands of concussions on high school football fields and no standardized guidelines for dealing with them. That's the real scandal of the head-injury epidemic, writes Will Carroll, and kids have died for our neglect.
How running an NFL team is like running a restaurant | Chef Emeril Lagasse
People ask if it's going to take a death for something to change the way we deal with concussions. It's the wrong question, since it already has. Unfortunately, Ryan Dougherty isn't an isolated case. It's just one sad data point in what truly is an epidemic of head injuries — an estimated 55,000 concussions in high school football in 2005-06 alone, according to the Journal of Athletic Training. Teenagers' heads, already chock-full of hormones, confusion and dancing images of Megan Fox, are being battered around on the football field, their brains sloshing inside their skull like the coffee in your mug when you take a turn too fast. If you watch Brian Westbrook or Jahvid Best being helped off the field by a team of trainers and doctors, you're seeing exactly what our high school and youth players lack: trained professionals who at least have a basic protocol for dealing with concussions.
The outcry over head injuries has centered on the NFL and, to a lesser extent, the NCAA, and both organizations have taken steps to address the problem. The NCAA distributes guidelines, though they're still too general to do much good. The NFL, which has shown more concern as public alarm has risen, distributes guidelines around the league, though I spoke with two teams that weren't sure they'd received copies this season. (A check with the NFL indicates that they should have, but routine guidelines have a way of being forgotten in the heat of competition.)
So the billion-dollar money machines have their policies, but that's not where the real problem is. It's the high schools and youth programs, where concussions are frequent and yet care is often non-existent.
I called six high schools in the Indianapolis area and asked for their policy on concussions. Not one had a policy available. Only one school had a full time athletic trainer, though every school had a trainer that came from a clinic on game nights. Of course, that means that only the coaches are making medical decisions during practice and on days after games, when some problems will show up. Of the six schools, none had any sort of guidelines that they were required to use.
Having a trainer present isn't any more of a panacea than buying new, $1,000 helmets, but it's better than nothing. And by nothing, I mean absolutely nothing. Indiana coaches aren't required to be trained to recognize concussions in any way. A simple guideline can only do so much. Require that a player with a concussion leave the game and stay out for a week? Fine, but who determines that he has a concussion in the first place? Even Kurt Warner says he'd hide symptoms better next time.
The Indiana High School Athletic Association has no rules regarding concussions, aside from a single question asked in the pre-participation physical. The question? "Have you ever had your bell rung?" Beyond this, there is no mention, no guideline, no article of concern on the association's website. It should say something that the six coaches and athletic directors I spoke to refused to go on the record regarding the lack of standards. Only one, an AD, mentioned the NFHS guidelines, which specifically call for no player to return to play after a concussion. His coach was not aware of them.
In Indiana (and, again, I'm using my home state as an example here — some states are doing more, some less), one program has been set up to help fight this problem. The Indiana Sports Concussion Network is part of Methodist Sports Medicine and provides ImPACT testing for high school athletes. (If you've never seen the ImPACT test, watch this video.) The ImPACT test is the same one used by most NFL teams and is considered the state of the art; some dispute its efficacy, but, once again, it's certainly better than nothing. According to Dick Rea at Methodist Sports Medicine, 83 of Indiana's 311 football schools are participating in this program. That 26 percent is something, but is it enough?
Asked for a solution or a protocol that would solve all our problems, no one can point to one. I have a hard time saying that spending money is any kind of solution at a time when schools simply don't have the money to spend. A Xenith helmet might cost an extra $100 and work better than most current helmets — Dallas Clark sounds like a salesman whenever he talks about it — but, again, it's an issue of money. Do we really want the rich suburban schools to have better protection than a program struggling with simply keeping kids in school? It's easy to say that adding a full-time athletic trainer to the staff would help in many ways, but even in Texas, where a licensed trainer is required at large schools (again, it's money), there's been no corresponding reduction in concussions. It might take something really revolutionary, like what John Gagliardi has been doing for 57 years at St. John's in Minnesota: The team has no contact during practice; no pads or helmets, either. Scott Bierscheid, the head athletic trainer at St. John's, said that concussions were "nonexistent" for him in practice. They've had two during games in the 2009 season (one in which the team went 10-1) — "about normal," in Bierscheid's characterization. Is it that simple?
Football celebrates stupidity disguised as machismo. Bear Bryant became famous trying to kill his own players, now immortalized as the Junction Boys. I'm old enough to remember when water breaks were considered weakness ... in middle school football. I'm sure that a generation from now, we'll look back at this situation and the management of head injuries the way we look at leather helmets, the Wing-T and Bobby Bowden. The problem is that there are kids — kids! — out there now, losing their heads in a very literal sense. It's one thing to say that the millionaires in the NFL are going to die from the effects of their head trauma someday and another to think that our high school kids might await the same fate. With so much at stake, we need to make sure that high schools and even lower levels and youth sports are using best practices. You should contact your local high school and ask what their concussion policy is — or if they even have one. I'd love to see the comments or the tips inbox fill up with the good and the bad of their responses.
Will Carroll writes on injuries at Football Outsiders and Baseball Prospectus. He edited The Carroll Guide to Sports Injuries.
Illustration by Jim Cooke