Here is a story that will either fill you with intense admiration or drive you so crazy that you'll want to punch a hole in your computer. Actually, you might feel both.

ESPN's Brett McMurphy caught up with two gamblers who have made quite a bit of money off the Green Bay Packers' recent winning streak. Back in November, when the Packers were 4-6 and coming off a blowout loss to Washington, Brian Yankelevitz and Russ Axelrod decided to bet $300 on the Packers winning their next game against the Eagles. Their plan from the start was to let the bet ride as long as the Packers kept winning, and now they have a ticket worth $28,213.60.
So are Yankelevitz and Axelrod, blessed by tremendous fortune, going to cash out and enjoy their winnings? Or maybe they really believe in this streak of luck, and want to keep riding it. In that case, it would make sense to cash out a chunk of the bet now—let's say, oh, half—and then let the streak ride with the remaining amount.
Obviously, these guys aren't doing anything like that, because gamblers are deranged. Instead, they are going to put all $28,213.60 on the Packers to beat the Falcons in the NFC championship game, and if they win that bet, they will put all of those winnings on the Packers to win the Super Bowl. Here is how they explained themselves to ESPN:
"It's more about the journey," Yankelevitz said. "Texting friends and conversations with friends than winning the bet."

[...]

"Brian and I are lifelong gamblers, the story is as good as winning the money," Axelrod said. "We won't pull a dime off the table, and there's no hedging on Super Bowl."
G/O Media may get a commission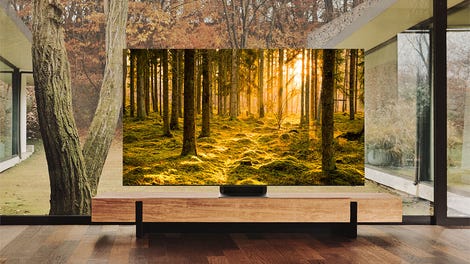 Up to 40% off
Samsung Smart TVs
It's like the old saying, money comes and goes, but fun text messages between friends are forever.
[ESPN]