Last night, Yahoo Sports' Adrian Wojnarowski dropped a bomb, reporting that Sacramento Kings head coach George Karl, who's had his job for about 45 minutes, is doing everything he can to convince the rest of the organization that All-Star center DeMarcus Cousins needs to be traded away as soon as possible.
Here's Woj:
Karl has been recruiting Kings vice president of basketball operations Vlade Divac and multiple players on the Kings' roster to unite with him in making the case to owner Vivek Ranadive that Cousins needs to be traded, league sources said.

Since the end of the 2014-15 season, Cousins has become aware of Karl's campaign to move him – including teammates telling Cousins, sources said. All around the Kings and Cousins, there is a growing belief the coach-player relationship is irreparable. Trust is a constant theme with Cousins, and he's been unable to build any with Karl, sources said.

No one in the Sacramento organization – not coaches, nor players, nor support staff – wants to imagine the combustible scenario awaiting Karl and Cousins should the Kings try to reunite them in training camp.
And just in case you have doubts about the quality of information that Woj is getting from his sources, see this tweet that Cousins sent late last night:
G/O Media may get a commission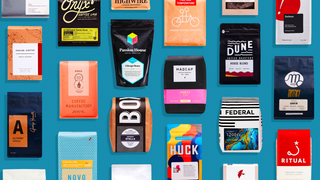 Get $25 free
Trade Coffee - National Coffee Day
Translation: when the grass is cut, the snakes will show. That tweet is even more telling when you become aware of the fact that it has long been the Jay Z lyric of choice for players who have butted heads with Karl.
Karl has always been a great tactical coach who has trouble co-existing with superstars—he ran Ray Allen out of Milwaukee, for chrissakes—and his passive-aggressive agitating has always just been part of the package. When he can find a way to tenuously co-exist with his stars, or when he gets his hands on a roster constructed specifically to fit his style, he can be brilliant.
But no amount of tactical genius can outweigh an idea this bad. Boogie Cousins is not Nuggets-era Carmelo Anthony, a superstar just past his absolute peak and saddled with enough on-court deficiencies that his departure could actually be a net gain. Boogie Cousins is a goddamn kaiju. He's a 24-year-old center who just finished a season in which he averaged 24 points and 12 rebounds per game and was absolutely unguardable. He's the kind of true center that really doesn't exist anymore in today's NBA, a guy who can hulk up, slap 39 points and 18 rebounds on the board, and win a game all by himself. Also, he's only 24. Did I already mention that he's just 24? He's only 24.
Even if the rest of the front office is able to talk some sense into George Karl, it's probably too late to salvage much of anything. Cousins is a notoriously moody guy, and if he's had it with Karl, it's not hard to imagine him dogging his way through as many games as it takes to eventually force a trade. Thanks to George Karl, Kings fans can now look forward to a season without Cousins, or a season full of moments like this one.
[Yahoo]