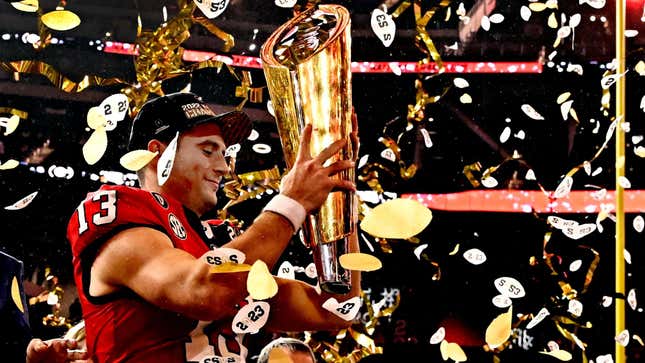 On New Year's Eve, Georgia experienced — for the first time all season — how hard it can be to repeat as National Champions. On Monday night, the atmospheric river that dumped rain all day on Southern California may have been more of an obstacle for the Bulldogs than TCU was.

Notre Dame is Black as hell | The SEO Show
The game was played indoors, but the precipitation slowing down Los Angeles traffic even more than usual at least had to be navigated around. On the field, Georgia moved forward at will, scoring on their first six possessions. Then, after punting on their opening drive of the second half, they scored on all their drives the rest of the game. Their 65-7 win is the largest margin of victory in any bowl game in the history of college football.

USC vs. Oklahoma in 2005, Florida vs. Florida State in 1997, and even Nebraska vs. Florida in 1996, no beatdown has been administered quite as thoroughly in a college football National Championship Game as the one Georgia put on TCU. By comparison, Alabama running through Notre Dame like construction paper in 2013 was a barn-burner of an affair.

Can Georgia topple Nick Saban and Alabama?
Alabama. Nick Saban's Crimson Tide has been the final level-boss in college football since 2011. Only two schools have emerged that have proven to be consistent, formidable foes after the dawn of Saban's dominance — Georgia and Clemson. Two programs that were widely regarded as the biggest choke artists in college football.

During the height of Alabama's dominance, both programs would lose crucial games that regularly kept them out of the national title picture. For Georgia, it had been a problem for decades. At Clemson, Dabo Swinney eventually recruited two quarterbacks who would go on to become top-15 picks in the NFL Draft. However, since Deshaun Watson and Trevor Lawrence have gone on to the pros, Clemson has faded from title contention.

The Tigers also never repeated as champions, while Georgia just became one of three schools to do so since the turn of the millennium. Stetson Bennett IV will get an opportunity in the NFL, but don't expect his name called in primetime on Thursday night come late April. Instead, Georgia is on the road to becoming the next college football dynasty by finally using its advantages.

How Georgia rose
Clemson has never recruited like Georgia. Swinney first took over in 2009, and has never hauled in a better class, whether Georgia's coach was Mark Richt or Kirby Smart. Also, I'm sure Clemson, S.C. is a lovely place, but there are few better locations for a Power 5 program than Athens, G.A. It's less than 80 miles from Atlanta in a state with no other competitors for talent, along with a population large enough to swing a presidential election.

Georgia's football facility has undergone $175 million in renovations since Smart took over the program. And for the students, depending on their mood, Georgia has the correct potion for the moment. It is tied in the US News rankings for the 16th best public school, and also has over 70 bars within a square mile of campus.

All that being said, the main reason Georgia might be on its way to an Alabama, Nebraska, or Miami-like run at the top of college football is Smart. He might be Saban's greatest student. Saban took over the Alabama job in 2007, and Smart not only served as his defensive coordinator from 2008-2015, but was also one helluva recruiter. His force of personality allowed him to bring in the recruits to be able to construct those force-field defenses.

If these current Georgia defenses are looking similar to the Alabama unit in 2011-2012 that annihilated its opposition to win back-to-back championships, that's because Smart is doing for Dawgs what he did for The Tide. He's merging a national recruiting plan with his defensive expertise to construct a terrifying front seven, and also has NFL-level talent at nearly every position on the team.

Bennett never could have won a championship at Clemson. However, at Georgia, the walk-on passed for 4,000-plus yards this season, and in his second-consecutive national championship appearance, tossed four touchdown passes.

Georgia has finally maximized its potential, but it has also witnessed just how thin the air gets at the top. If Ohio State's kicker makes that field goal at the same time as Ryan Seacrest rang in the New Year in Times Square, no one last night would have been researching the last college football team to win three consecutive national championships.

As always, Georgia has the tools to put together a dominating run. We'll see in the coming years if the program resembles the Alabama teams that Smart previously worked for, or if it does like Clemson and falls into past losing habits.