If the whole of Arsenal's 2-1 win over Everton this weekend left me with any lasting impression, it was that I should give more respect to the Gunners' budding title charge; they more or less coasted to another three points against formidable opposition, the sort of thing they've seemed capable of in recent years but haven't quite done. If one particular moment stood out, though, it had to be one passage of play by my favorite headcase, Gerard Deulofeu.
The best sports movies according to Toheeb Jimoh
Here is the play in question, where the Everton winger encapsulates his entire career in about five seconds:
There's so much here. It starts with Deulofeu streaking through the heart of Arsenal's defense on a break, practically begging Ross Barkley to slip him through the two defenders so he can pop the equalizer past Petr Cech.
Barkley dallies a bit before playing the pass, and when he finally strokes it forward it appears the moment has passed. The gap between Nacho Monreal and Laurent Koscielny is no longer as wide, and the ball is a little behind Deulofeu's path. For most any player in the world, let alone a 21-year-old winger playing for an upper-midtable club like Everton, the chance would be lost as the ball deflected off his heel for the defender to clean up.
G/O Media may get a commission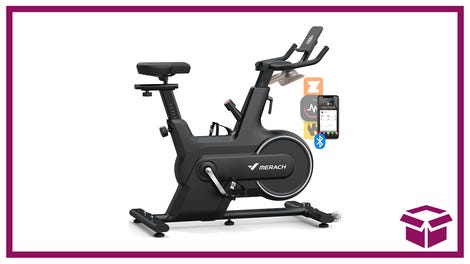 14% off + Coupon
Merach Indoor Cycling Bike
But this is no ordinary EPL youngster! This is Gerard Deulofeu, who not too long ago was considered the next superstar to come out of Barcelona's famed La Masia youth academy, and who by the age of 17 had better speed, agility, technique, and first touch than anyone on Everton's roster will ever have. This is a player who saw Barkley's pass trailing astray, immediately swiveled his hips to reroute himself, glanced at the defenders surrounding him as he whipped his head around behind his opposite shoulder, and with an absurd casualness prodded the ball just a yard or two towards his right, inching it past Monreal and into acres of space for him to continue his jaunt into the box. Just a preposterous bit of skill, done at a dead sprint with only milliseconds to think it all up.
And that's when Gerard Deulofeu showed that other part of his game. This is the side that got him loaned away from his boyhood club to Sevilla last season; that, at Sevilla, so quickly infuriated his manager with its disinterest in any part of the game that didn't include running at guys and/or shooting/passing after, petulence when things didn't break exactly right, inexplicably bad decision-making with the ball, and sullen response to everything but playing time and praise that Sevilla boss Unai Emery personally and with great care physically cemented Deulofeu to the bench; that has him slumped over on the ground after nearly every challenge, whining to the refs, expecting to get every borderline call simply because of who he is; that led Barcelona to sell him for relative pennies on the dollar to Everton this summer, even with their glaring need for talented forwards for squad depth if nothing else; that is at this point as inextricable from the good parts as the smelliness is of Limburger cheese. It's that Deulofeu is kind of a nut.
There is no simpler explanation for why, just when he'd pulled off a minor miracle in evading a defender and playing himself into space, having only one man to beat before getting clean in on Cech's goal, he'd decide to throw himself to the ground at only the smallest of touches. Hell, Monreal probably would've actually fouled him if Deulofeu's flick and speed hadn't combined so perfectly leave the defender for dead.
Most dives make some sense when you can see that the man on the ball had exhausted his realistic possibilities to score and would prefer a free kick or maybe a penalty rather than continuing with the ball until it was taken off of him. This was not one of those.
Maybe Deulofeu thought the ref would reward him with a red card on Monreal for a last man challenge, but that doesn't really follow. Koscielny was in his field of view right before he dove, and he had to have noticed that the center back was in a position that would negate any chance of a red. No, this was a more natural impulse of Deulofeu's. He decided to spurn what would've been a one-on-one with Koscielny with Romelu Lukaku offering support and instead chose to flop with the same instinctive reflex that led to that little flip moments before. It's saying something when this is about the only sensible interpretation of his thinking there:
At this stage in Deulofeu's career, every bit of good comes with some bad. This isn't all that odd, since that's true of pretty much every young player. What makes his brand of brilliance-cum-bafflement unique are the awe-inspiring heights of the former coupled with mind-numbing lows of the latter. He is as tantalizingly good as he can be frighteningly thick-headed.
Luckily, this all appears to be heading in the right direction. After being chiseled off of Sevilla's bench and brought back to Everton, where he'd spent the season prior to last, he has already proven to be a more important and reliable part of the Toffee's set-up this year. His three assists are tied with Barkley as the joint-highest number for the Toffees in the league and have come in about one-third of the minutes as Barkley's tally. On a per-90 minute basis, he leads the team in key passes, assists, and dribbles. Every time he's on the pitch, he looks like the most dangerous Everton player. This is by far the best and most consistent he's played since leaving Barça B and has all the support around him to make sure he only improves.
Still, at this point in time, Deulofeu retains remnants of that kid who was famous as a teen, heralded as the hottest prospect for one of the world's biggest clubs, a surefire superstar in the making. At times he still carries himself as if he was God's gift to soccer. Thankfully for his own self and fans like me, he continues to transition away from the entitled brat he once was and the finished article he should one day become. In the meantime, his moments of shitheadery make the journey of his development all the more endearing. Their presence is evidence that he's still a kid, after all; that they are slowly subsiding is proof of his maturity.
Gerard Deulofeu. Déu lo féu. Catalan for "God made him." And thank heavens He did.
Photo via Getty