It's time for Waxing Off, the Deadspin feature recommended by four out of five dentists who chew gum. This week: Alyssa Milano and her soon-to-be-released book, Safe at Home.
Trouble:
Reading excerpts from Alyssa Milano's upcoming girlie sports fan book, I was shocked, appalled and disgusted. Have all the book editors been laid off, too? Her writing is atrocious.
Why is this book? Milano is a cute girl, sure, and a lesser celebrity. She apparently is really into baseball-or at least really into people admiring her for her ability to tick off rosters and stats and bellow at bad calls. Does she make any valid points about girls 'n sports, or sports 'n relationships? Not from what I read; those blathering sentences are stuck together without point, style or reason. Really, this book is yet another narcissistic diary that is an insult to talented sportswriters of either gender.
Girls and women who love and follow sports are not that hard to find. Books written by female athletes, broadcasters or famous fans, about Title IX or the equality challenges faced by women in sports, or essays about how guys hate when women intrude on hallowed boy ground are plentiful and usually ghostwritten by a talented writer, to avoid putrescence such as Safe at Home.
G/O Media may get a commission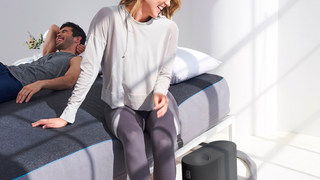 Eight Sleep Pod Cover
Good for little Sam, though, she needs a boost to her career that doesn't involve FHM.
— Trouble is a web editor and freelance writer based in Denver, CO. The sorry state of media and publishing has her depressed and anxious. Alyssa Milano's stupid book is not helping.
————-
The Steezer:
First off, I may not like Alyssa Milano, but goddam it, I respect her. Anyone who can make it okay for me to own this is A-OK. Also is it just a coincidence that Milano's TV dad on "Who's the Boss" was a former baseball player? I bet Tony Danza taught her everything she knows about getting to second base. But I digress.
I have long held the belief that guys think girls who like sports are cool, fun, awesome girls…and it's true, we are…but not "girlfriend material." We're buddies. Besties maybe. But most guys are not secure enough to have a girl know more about the BCS formula than they do. I think it makes their testes retract.
So I often find myself holding back from correcting some dude about a sports fact because it's not worth the repercussions. And as someone who likes people to know that I know everything about everything, this is not an easy thing to do. Other traits that guys find cool but undesirable in a romantic partner:
• ability to out-drink them
• excessive recitations of movie/television quotes
• affinity for buffalo wings
If this means I have to live my life as a single lady because no fella ever put a ring on it, that's fine by me, if it means I'll be spending every Saturday/Sunday in a Miller Lite haze inside a dark sports bar with sauce all over my face and hands yelling, "I DON'T WANT YOUR LIFE!"
Today, however, I am prepared to amend this notion. Guys don't want to date girls who like sports UNLESS they look like Alyssa Milano.
— The Steezer is a Texas Longhorn fan living in Washington, D.C. who is hoping for a stimulus package to call her very own.
————-
Cameron Frye:
Alyssa Milano is a baseball fanatic and desperate for you to know that. She's a season ticket holder, she designs overpriced fan gear for women & I'm assuming scrawny gay men and now she's written a book to prove she's a super fan and bleeds Dodger Blue. Do I think she is? Yeah, I do. But I think she went a little crazy along the way and took her love for the game to a whole new level.
Instead of being content with watching the men in their tight white pants play America's pastime, she decided to screw a few of baseball's best and leave her mark on the sport. The gentlemen, who've hooked up with her over the years, haven't had the best of luck afterwards. Alyssa seemed to have the ability to suck the talent out of anyone. Barry Zito signed a $126 million dollar contract and was sent to the bullpen. He started last season 0-6 and had 7.53 ERA. Carl Pavano played in 26 games during his three years on the New York Yankees and spent most of the time on the DL. I'm so glad the sight of Schilling shoveling food down his gullet drove him to sign with NY. And is there any way she can fix Brad Penny since he's playing for Boston now? I'll buy one of her lousy shirts if she does.
Do I blame her for banging a few ball players? Not at all, there are a lot of good looking guys who play ball – shit; I'd do it. Basically, what I'm saying is that if you want to be taken seriously as a fan, keep the balls and players out of your mouth.
— Cameron Frye cannot wait for baseball season and is especially looking forward to drinking heavily at 10 am on April 20th at Fenway Park. You can follow Cameron and her drunken nonsense @ twitter.com/cameronfrye .
————-
Katni:
Despite her questionable career and relationship decisions, I absolutely adore Alyssa Milano. I liked her back in the Who's the Boss days, I've overlooked some of the shittier movies she's made, and I've occasionally watched Charmed because of her, despite the fact that I cannot fucking stand the chick from Picket Fences.
As for her love of baseball, I think it's genuine. I consider myself a moderate baseball fan, but Alyssa puts me to shame. She knows what the fuck PECOTA is, for god's sake. (Is that some sort of tapas dish?) She has had the misfortune of being in some high-profile relationships, and has been called out for being a groupie, but here's a parallel that may help explain what seems, on the surface, like groupie-ism. Let's say a girl loves music. She loves music so much that she goes out of her way to see/hear live performances as often as she can. She will enthusiastically tell anyone who will listen about her favorite bands, songs, musical techniques, etc. Over time, that girl is probably going to end up talking shop with some of the very same musicians that she has already become fond of on a "professional" level. Occasionally, one thing will lead to another, and she will end up dating said musician(s), because she has found somebody who shares at least one of her passions. Granted, that person may not also share a passion for things such as gainful employment or paying rent, but I digress.
My point is, I think that Alyssa truly has a love for the game, and it's next to impossible not to fall for someone who feels as strongly about one of your primary interests as you do. I'm glad to see that she has wised up to the fact that these arrangements don't usually work out, though. I hope her newly-minted fiancé won't mind her prattling on for hours about sabermetrics, just as I hope my the purely hypothetical music-enthusiast's future fiancé won't mind her prattling on about the genius of Josh Homme.
— Katni insists that one of her playlists will change your life.
————-
Ellie:
Hey Alyssa, why the "God, no" for Josh Beckett? Then again, considering the pitching careers of the other three after you've dated them, forget it. Please don't go near Beckett. In fact, I hope Beckett and Penny don't have lockers near each other so the Micelli Mojo doesn't rub off.
Anyway, after reading those excerpts, I wonder … Am I supposed to feel bad for Samantha Micelli because she's dated all these baseball players and the relationships didn't work out? Phoebe Halliwell is giving me dating advice? Amy Fisher is telling me stand strong as a woman who likes sports and actually knows sports? Um, I don't think so.
The differences between her and other groupies are that she's an actress (or was an actress), she's got her own money and let's face it, she's hot. You know these athletes will still bang her, instead of blowing her off saying things like, "She's been passed around like a doobie. I'm not going near that." Any other groupie who's nailed three different guys in the same sport gets treated like a joke. Alyssa Milano gets treated like a trophy.
That said, I do think she does have a genuine love of baseball. The way she shows it, or the way it's shown in public, is unfortunate cause it turns her into a joke. But then again, I suppose she's making the most of it. Why else would anyone buy this book?
— Ellie has nailed only one MLB pitcher. And thankfully, he knew how to close.
————-
Bay Area Claire:
Hi. I'm Bay Area Claire and I love Alyssa Milano. I am enamored by her banging body, pretty face, and stunning smile, but what really does it for me is her love for baseball.
Her knowledge and passion for the game is questioned and scrutinized-a girl can't really know that much about baseball, right?
All the criticism that she receives is the same that many female sports fans encounter-except her experience is on a much larger scale. I don't get special access to the All-Star game, host mlb.com All-Star parties, and date baseball players. That's the life of Alyssa Milano. Man, I would love to live her life.
So Alyssa Milano is drawn to men who are in shape, have perfect musculature (defined, but not overwhelming), and athletic? There's nothing wrong with that; I totally co-sign the idea.
It shouldn't be shocking that a woman has a "type." It should be even less surprising that athletes can be a woman's preference. I share her affinity for baseball player types-I'm talking Derek Jeter-esque, not CC Sabathia-esque, and definitely not roids-filled Jose Canseco-esque.
I've only had one close encounter with the Charmed hottie-and I'm not talking about late night Proactiv commercials.
When SF played host to the All-Star game, she was the host of the mlb.com party. I made my way to the VIP level and in the midst of my mingling, ended up in front of the area where she was hanging out. Like a love-struck girl, I swear we exchanged glances ("move out of my way, Russell Martin, I'm trying to flirt with Ms. Milano!"). Alas, the momentary look was all I was given.
That woman is flawless. Many woman can't pull off the "no bra" look, but she is one of the exceptions.
What can I say? I'm a sucker for anything sporty, sparkly, sexy, and expensive.
And yes, I will probably buy her book.
— Bay Area Claire is up for sharing Alyssa Milano with her man because Alyssa is just that damn sexy. When BA Claire is not obsessing over hot sports fans, find her writing about baseball on examiner.com and BleacherReport.com.