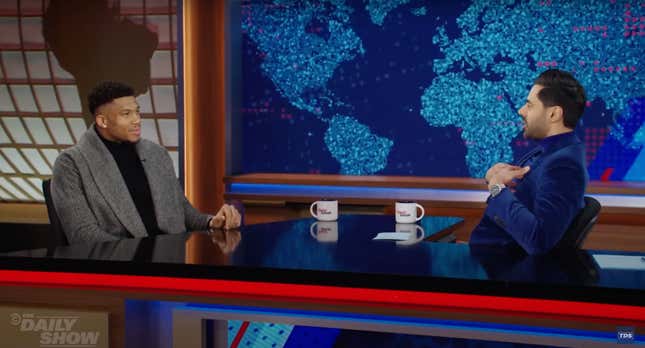 It's unfair that Giannis Antetokounmpo is one of the best power forwards in NBA history and also genuinely likable and funny. We rarely get to see NBA players outside of arenas during the season, but the two-time MVP took the time to appear on The Daily Show on Monday night, with comedian Hasan Minhaj filling in as guest host. A majority of Antetokounmpo's time on the show was to promote his family's foundation, named in honor of his father, Charles Antetokounmpo, but then there was time for comedy.

Stop dunking! Giannis' injury could've been prevented | Andy Reacts
Well-versed in roasting and stand-up circles, Minhaj has the ability to comedically take down any adversary. Giannis isn't exactly known for trash talk despite how bubbly his personality is. His first quip takes a minor dig at Luka Dončić and new teammate Kyrie Irving, but you can tell he's even a little bit uncomfortable saying those things about his contemporaries. Minhaj can tell, and took over for the seven-time All-Star.
Something about saying Dončić had "sausage arms and cankles" wasn't pleasing to Antetokounmpo. And smack-talking Dončić's nationality by saying "for a dude from Slovenia, you sure look like a dude from Alabama" didn't inspire him to take up trash talk. The front-runner for NBA MVP this season wasn't the only one Minhaj wanted Antetokounmpo to insult. His attention turned to Nikola Jokić, saying it will be tough for the center to make it to the NBA Finals when he "can't make it through a Burger King drive-thru" and that he should be checking IDs outside a hookah bar. Antetokounmpo tried to insert a compliment sandwich by telling Jokić he "loved his game" but Minhaj had none of the lovey-dovey talk.
Antetokounmpo got through one joke about Kevin Durant before showering the current Phoenix Sun with praise and couldn't even read the punchlines intended for LeBron James, much to the frustration of Minhaj. Seeing Antetokounmpo outside of arenas was a great chance for him to show the non-sports world more of his personality and not just some eggplant emojis on Instagram. Those opportunities are usually only afforded to the Jameses and Steph Currys to show who they are without a basketball in their hands. Consider me massively impressed with how Antetokounmpo handled himself and I hope we see more of him in that spotlight and similar opportunities for others in the NBA.