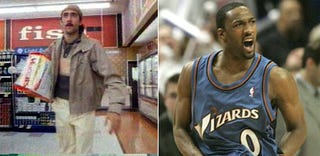 The Washington Wizards say that they're not surprised that Agent Zero plans to opt out of the final year of his contract, turning down the team's offer of a three-year extension. Arenas signed a six-year, $65 million deal with the team in 2003, but says that he can make bigger money through free agency next summer. Hey, more power to him, we say. But what always gets us is the reasoning behind such maneuvers. Here's your Gilbert quotage, via the Washington Post:
Arenas said Saturday that the knee injury he suffered in April and the recent birth of his second child has led him to view his financial future in a different light. "It's very important that I secure my future," Arenas said. "Next summer, I will be in a position to sign a contract that will give me 12 solid years in this league. When I came in as a second round pick [in 2001] that's something I never imagined."
Yes, as we know, Huggies can be quite expensive. At least he didn't say "I have to feed my family." We continue to love Gilbert, but ... seriously, fella.
And while we're in a Raising Arizona frame of mind, we can totally picture Gilbert having the following conversation with a convenience store clerk:
GILBERT: "Do these balloons blow up into funny shapes at all?"
CLERK: "Not unless you consider round funny."
Wizards Expected Arenas To Opt Out [Washington Post]