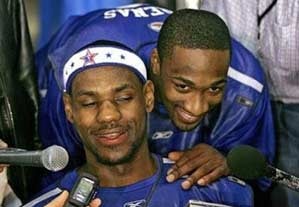 Yes, yes, we know: We've hawked the book a bit around here, but we took a day off from it yesterday. (If just because we were in a plane for seven hours.) But don't worry, folks: Gilbert Arenas has our back.
Yes, we were quite stunned to arrive in Phoenix and learn that Gilbert was encouraging his fans to buy our book.
Have you seen the new book that came out, God Save the Fan? Will Leitch came out with the book. Thank you Will Leitch! Got to give a shout out to Will Leitch and Deadspin for coming out with the book God Save the Fan. I'm just going to tell you guys to go get the book, because I'm in Chapter 2. I mean, the title might be a little hard for some of you to read, especially since me and LeBron James are best friends. It's about me and LeBron and it's somewhere along the lines of "Why Gilbert is Better for the Game than LeBron" ... it's somewhere along those lines. I don't want Cleveland fans to get mad at me, I didn't write the book, I just read it. It's kind of funny because me and him have been best friends over the five years since he's been in this league. I was just grateful being mentioned with him. When I'm done playing and after all is said and done and he's compared in Jordan likeness, I'm going to show my kids the book and be like, "Look at this here. Y'all see this, kids? Told you I was somebody. Y'all thought I was playing." LeBron and I are really friends though, the whole free throw thing in the playoffs was just trash talking.
We're not sure if Gilbert Arenas has a "Gilbert Bump" when it comes to booksales, but even if he's not the Sports Oprah, we are flattered and honored; we didn't even send him a free book. Shame he can't play right now; we could have tried to get him to sign one at courtside. Sure would be more valuable than our dumb signature.
Reading Assignment [Gilbert Arenas Blog]