If you were looking for the second leg of our open thread tripod, congratulations! It's right below. Join in all the fun.
Dallas at New England (FOX): We should all drop down and thank the Lord that this game was scheduled for this weekend. When I first looked at it, I thought "Ah, crap. Nantz and Simms." Then I noticed it was on Fox. So I thought "Even worse, Buck and Aikman." But! Major League Baseball saves the day. Joe Buck brings some much needed austerity to America's Pastime and we're all the beneficiaries. Thom "I Spell My Name Like a Shoe Brand" Brennaman and Troy Aikman will guide us through what will likely be a thorough dismantling of the Cowboys. Yeehaw.
Houston at Baltimore (CBS): If I can't think of something to write for a game off the top of my head, I will do a quick search for the matchup. My go to formula is "[away team] at [home team] nfl." So, that's what I did here and I found this in-depth and exhaustive "matchups" "column." Here's my problem: It's not like his editor was all "Hey Mike Preston, you gotta do a matchups column on these three specific topics" and he then wrestled mightily with it over the week only to throw his hands in the air shouting "Blasted! The Texans win the first matchup, Baltimore wins the second and then they draw the final matchup!" It's just pointless. So, thanks to Mike Preston, we know that Owen Daniels will do well—but not Matt Schaub—and Ray Lewis and Arian Foster will be equally good or terrible.
Cleveland at Oakland (CBS): FCAWRGS has everyone's least favorite Family Guy character Cleveland Brown pitted against the Crypt Keeper in this battle of insanely annoying voices. The FCAWRGS scientists wanted me to pass along that throughout each of the 10,000 simulations they were secretly hoping a meteor would interfere. But, alas, Crypt Keeper wins this showdown and asks that we not bury the lede [maniacally laughs].
New Orleans at Tampa Bay (FOX): Hey, the Cowboys and Patriots are playing for those of us not living in America's seedy underbelly. So, you know, try not to be from those places.
G/O Media may get a commission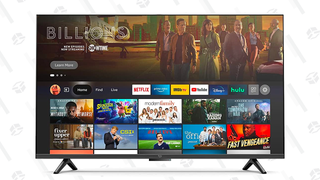 22% off
Amazon Fire TV - 50" Omni Series 4K - Early Access Deal
What You're Watching
Via The 506. CBS:
FOX: