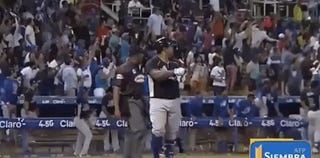 There's an argument to be made that the ideal bat flip should be one-handed—casual, effortless, I am so good and now you must look at how little I care for you or your family or my beautiful bat.
That argument sucks. Give me effort. Give me a two-handed heave. Give me Chicago White Sox prospect Yermin Mercedes doing this for Tigres del Licey in the Dominican Winter League last night, complete with a stroll around the base paths so leisurely that it can really only be labeled a home run "trot" if you're working with a remarkably generous definition of the term.
*Note: This Chicago White Sox content has not been filed to this website's "Blight Sox" vertical; in a rare departure from typical White Sox news, this blog post is not blighted. Additionally, please note that the author has never received used footwear from the Chicago White Sox, or Tigres del Licey, or any other professional ball club for that matter.