Vikings GM Rick Spielman was trotted out in front of the media today to explain why the Minnesota Vikings decided to reinstate Adrian Peterson despite the fact that he has been indicted on child injury charges in a case where none of the facts are in dispute.
The best sports movies according to Toheeb Jimoh
Spielman explained that Peterson was deactivated on Friday, right after the news of Peterson's indictment broke, because the organization wanted to "take a step back" and "gather information." Having gathered the same information that everyone else has, including disturbing images of the physical wounds that Peterson's son had a week after the incident and witness testimony that included phrases like "Daddy Peterson hit me on my face," Spielman said that allowing Peterson to return to the team was the decision the team "felt was best."
That doesn't make much sense! If anything, Peterson's actions look worse today than they did when the Vikings made the decision to deactivate him on Friday. Spielman explained this away with some disingenuous babbling. For example:
Q: Why do you have to wait for due process when the extent of the injuries and the facts are so readily available? In other words, what would what a jury says change about what you can see with your eyes?

A: Again, I don't know. It hasn't been in front of the jury yet, and what we have is what we're aware of right now, and collecting all of the evidence and facts that we can to make this decision, we felt that this was the best decision going forward.
G/O Media may get a commission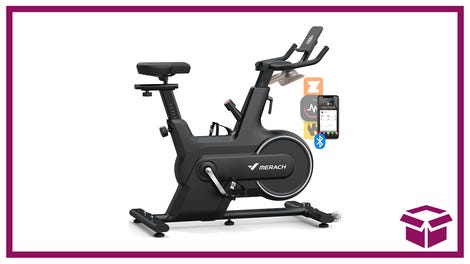 14% off + Coupon
Merach Indoor Cycling Bike
OK! The "due process" argument is plainly bunk, but it holds even less water when one considers how quickly and harshly the Vikings have come down on players who have gotten into legal trouble in the past. In May of 2012, the team cut running back Caleb King after he was arrested on suspicion of third-degree assault. In November of 2013, cornerback A.J. Jefferson was cut just hours after being arrested for alleged domestic assault. And in February of this year, linebacker Erin Henderson was cut after his DUI arrest.
The only difference between these players and Adrian Peterson, aside from the fact that they were cut for arrests rather than indictments, is that none of them are franchise players. The Vikings had nothing to gain by keeping them around, but got to score some free PR points by "taking a stand" and releasing them. This might lead one to believe that the Vikings' decision to play Peterson this week has more to do with their hope to win a football game than it does anything else. Spielman disagrees:
It has nothing to do with him as a football player. It has to do purely with the facts that we have, that have been presented to us.
Again, the facts that the Vikings have now only reveal Peterson's actions to be much more abhorrent than they appeared to be on Friday afternoon, and none of these facts are in dispute. Rick Spielman is not making any sense.
[NFL Network]