If you're heading to Yankee Stadium for Game 1 of the ALCS tonight, you can forget about hearing Ronan Tynan sing "God Bless America" during the seventh inning. Know why? Because he hates Jews! WOOHOO!
Yes, people. Our long national nightmare of unnecessary, overwrought patriotic melisma is over. Tynan has lost his gig with the Yankees after making a "joke" about Jews regarding a Jewish doctor looking at an apartment in his Upper East Side building. We go to the blockquotes:
The real estate agent said to the tenor "Don't worry they are not Red Sox fans," according to the apartment-hunter, Dr. Gabrielle Gold-von Simson.

To which Tynan replied, "I don't care about that, as long as they are not Jewish," Gabrielle Gold-von Simson told NBC New York.

"Why is that?" asked a flabbergasted Gold-von Simson of the singer. Tynan replied that Jewish ladies had been looking at the apartment before and they were "scary," according to Gold-von Simson.
Oh my God, that is SO funny! Best Jewish joke I've heard in ages. Nazi Shark gives it four Dead Jews out of four. For his part, Tynan claims the whole episode is a big misunderstanding. Of course he does.
"I'm not anti-Semitic and I have never been in my life," Tynan told NBC New York. "There are three members of my band that are Jewish. And I love them like brothers. I call them my brothers from another mother."
G/O Media may get a commission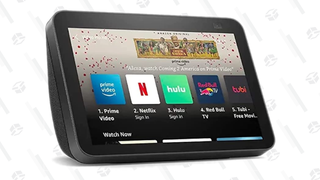 Also, he calls them dirty heebs. Because it's hilarious, you see. Anyway, so long to you, Ronan. The Yankees may still kick us out of their precious stadium for blinking during that fucking song, but at least you won't be the asshole stretching it out to seven minutes. Never again will we be subjected to your unbearable tenor and goofy ears. Have fun working the Shriner's Club circuit and picking up Giuliani's dry cleaning. Dick.
HT: Rovell's Twitter feed.