We're probably all familiar with the rumor involving Golden Tate and Russell Wilson. The gist of it is that Tate slept with Wilson's then-wife, Ashton Meem, causing a rift with the Seahawks that came to a head the week before Super Bowl XLVIII, when Percy Harvin punched Tate in the face. Everyone involved vehemently denies the story. Keep that in mind as you read on.
A troll, it seems, recently left a nasty comment on one of Meem's Instagram photos. We're not sure what it was; Meem's account is private, and the associate of the troll who sent the response below on to us wouldn't say. Judging from that response, though— it's from Elise Pollard, Tate's girlfriend—the troll brought up the alleged Tate-Wilson-Meem triangle. Pollard was not having it.
Maybe there's something actually worthwhile to glean from this. Pollard claims Tate has hired lawyers and is suing "that blog site for slander," though if he were actually taking legal action, he would sue for libel. (Slander is spoken.) Anyway, after Pollard finished clapping back, she tagged the troll's family members to bring them up to speed.
Update: The troll claimed the handles at the end were kids, so we've removed them at his request.
G/O Media may get a commission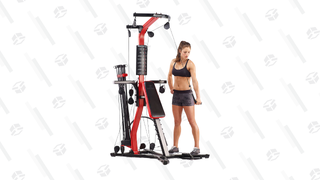 31% Off
Bowflex PR3000 Home Gym
What's the lesson? Don't be rude on Instagram.
Top photo via Instagram
H/t to Caleb