Golfer Doris Chen was disqualified from this weekend's LPGA Q-Series because she played a ball that her mother Yuh-Guey Lin had moved back in bounds. Although Chen called the violation a "misunderstanding," her caddie today said the golfer knew what she was doing.
Chen, the 2010 U.S. Girls' Junior champion and 2014 NCAA champion for USC, was competing in the Q-Series event at Pinehurst, in North Carolina, where the top finishers would receive LPGA membership. The LPGA said in a statement Saturday that it had determined that Chen and caddie Alex Valer knowingly played the ball that was moved by her mother after her drive on the 17th hole in the seventh round. The next day, Chen released her side of the story through some screenshots of a big paragraph she wrote on her phone.
Here's part of her explanation of what went down:

I did not have any direct involvement, nor was it my intention for it to happen. It was a stressful week and I did my best in terms of resolving it at the moment. Unfortunately, I did not have the best judgment at the moment and this resulted a ruling. It was my responsibility as a player to call for a rules official at the time to investigate, whether the event to be true or mistaken. However I thought I knew the rules clearly. I have to firmly clarify that my caddie, the volunteer nor I at the time who were searching for the ball saw anything of suspicious. I did not hear or see anything, nor did I do anything that would interfere. I found the ball and hit it. With this I regret that I could not do anything of help.
G/O Media may get a commission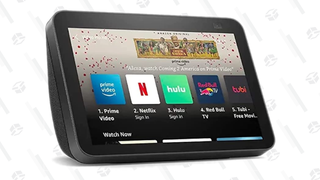 Today, both Chen and Valer gave their accounts to Randall Mell of the Golf Channel. Chen said that she was looking for her drive on the 17th hole when a spectator said she had found it in some pine needles near a tree. The golfer said a woman who owned a house nearby came out and said someone had touched the ball. Chen said she thought it'd be fine to play it where it lies because she couldn't determine whether the movement was intentional.
Chen said she did not know whether the homeowner accurately saw what happened, because the home was below a small incline where the ball was found. Chen said she chose to play the ball because she believed even if the ball was kicked, it was "still a live ball" and should be played where it lies. She also said she remembered watching TV years ago when something similar unfolded, where a fan moved Tiger Woods' ball and Woods was instructed to play it where it lies.

Chen said her mother, Yuh-Guey Lin, was following her that day, but her mother was further up ahead on the hole and wasn't witness to the conversations taking place.

"My mother said she didn't move the ball," Chen said. "She doesn't know what happened."

Chen said she felt pressure during all of this, because her group was on the clock and rushing to get back in position.

"Apparently, the homeowner told the LPGA later that the ball was moved from out of bounds to in bounds," Chen said. "I swear to God that is not what she told me. My caddie was a witness. He heard it."
Valer, the caddie, said he is speaking up because he was frustrated with Chen giving an untrue version of events. Valer told the Golf Channel that Chen knew it wasn't just some random spectator who moved the ball, but her mother—and that he warned Chen that playing the ball without consulting a rules official could get her disqualified:
Valer said neither he nor Chen saw the ball being moved, but while they were looking for the ball, it was Chen's mother who announced she discovered the ball.

And when Chen and Valer set up to assess the lie, a woman came running from out of a nearby house, with the woman telling them that the ball was moved by a spectator. She was pointing directly at Chen's mother.

"She said 'That person right there kicked your ball,'" Valer said.

Valer said he didn't know if Chen's ball was lying out of out of bounds when it was moved, but the fact that they were so close to being out of bounds, and that Chen's mother was being accused of moving the ball, made the circumstances a potential "disaster."

Valer said he told Chen that they needed to call a rules official.

"Doris said, 'No, I'm going to play the ball,'" Valer said. "I told her, 'If you don't talk to a rules official, you could be disqualified.'"

Valer said he was upset Chen played the shot, but he told her it still wasn't too late to call a rules official. He said as they walked to the 18th green, he tried one more time, insisting they call a rules official.

"I told her, 'If you sign the scorecard, there is a possibility you will be disqualified,'" Valer said.
When LPGA rules officials asked Valer about the violation, he said he told them what he saw.
Today on Twitter, Chen disputed Valer's account, though she deleted an earlier tweet with broadly similar language that claimed her caddie "did not suggest to call for a [rules official] at all."