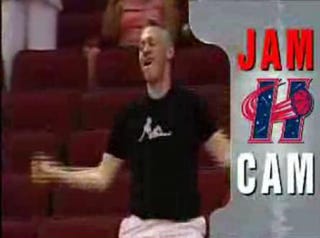 There are many ways to remember the Houston Comets, one of the original WNBA franchises which announced on Monday that it was being disbanded. The sister team of the Houston Rockets won the first four WNBA championships, once included the league's first MVP, Cynthia Cooper, and had on its roster last season Tennessee's Michelle Snow, only the third woman in NCAA history to dunk in a game. But I will always remember the Comets as the franchise that gave us the Jam Cam, which on one magical evening electrified the crowd, and then all of America, with the sweet dance moves of Comet Boy (relive the magic in the video below).
Known also as WNBA Dancer, the Jam Cam Ham or simply Dennis, he took the spotlight sometime in 2007 during a brief Comets time out and made it his own. With America entrenched in two wars and showing signs of a weakening economy, he taught us to "Jump On It," and gave us all hope with his reckless, carefree dance stylings.
Once he got going, we wished the music would last forever. Alas, it did not. Houston mayor Bill White's November deadline to find local ownership came and went without any interested buyers, so the league, which had been running the team since August, decided to shut the doors. Comets players will be placed in a dispersal draft.
It's a sad day. But as long as there is YouTube, we will always have Comet Boy.
Houston Comets Disbanding [Inside Hoops]
Falling Comets Shut Down By WNBA [Houston Chronicle]