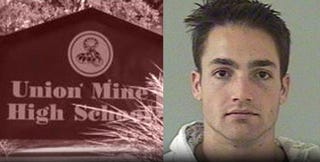 It's getting so that you can't swing a dead possum around here without hitting another story about a coach or player texting something naughty. Today: Volleyball coaches gone bad.
Jeffery Steffens coached freshman volleyball at Union Mines High School in from Oct. through Dec., 2008, and, according to CBS13 in Sacramento, "kept in touch" with several of the players after the season had ended. In this case, keeping in touch apparently included text messages with photos of his wang. And that brings us to our ... quote of the week!
Union Mine varsity volleyball coach Mike Yates says he knows Steffens. "He works hard, he cares about the kids," he said. "I don't think he messed up, I just think he got caught up in a screwy situation."
Somehow the photos came to the attention of school officials — as they always do — and Steffens was arrested. He's now out on bail. High school freshmen are typically, what, 14? Jefferey, that's not what your Verizon Network had in mind.
Update: Steffens attends Sacramento State, which I guess has no women.
Former High School Coach Allegedly Sent Inappropriate Material To Two Students [Sacramento Bee]
Ex-Coach Accused Of Trying To Seduce Students [CBS13]