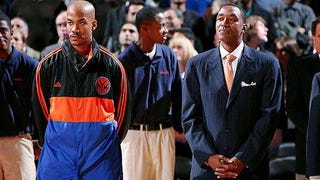 The NBA Playoffs schedule is all set, and we'll certainly be overflowing with coverage and discussion and all you might expect from your sports blog, but we really need to start today off with a eulogy. At some point today, if it hasn't happened already (and the ESPNews crawl seems to think so), Isiah Thomas is going to be fired as head coach of the New York Knicks, and we all must make our peace with it. We will never see his likes again.
We saw the complete decimation of one of sports' most proud institutions under Thomas, and it's going to take years for the Knicks to dig themselves out. (And by years, we mean "probably at least five.") What made Thomas unique, though, was his dogged insistence that matters were always looking up, that he was just about to turn a corner. He is like our President in that way, except he looks better in a suit (and, uh, seems to know less about, you know, sports). It was a special thing for us all to witness; it's difficult to imagine anyone have such a limitless opportunity to wreak havoc on such an epic scale in the future. In this way, Isiah was unique, special.
So, until Isiah is officially let go today, let's all enjoy, as we once put it, "Isiah Thomas' Knicks Legacy, Summed Up In One Possession."