Goose Island has been making outstanding beer for the good and other people of Chicago since 1988. The rest of us have been able to get our hands on it for a long time, too; it was also was one of the first American craft breweries to hit the big time. This is because it was a well-run small business with a superior product. You know what happens to some well-run small businesses with superior products? They get bought out by bigger companies with inferior products. So now Goose Island is owned by AB InBev, the Belgio-Brazilian conglomerate that pumps out Budweiser, Stella Artois, and tons of other similarly disreputable bullshit.
To the extent that I care which rich guy owns what, I generally prefer it to be a local rich guy, and for all the usual reasons that we needn't list here. Everyone knows that small, local places are always cooler and usually better than giant chains. So it sucks that Goose Island sold out, in precisely the same way it sucked when LeBron left Cleveland. But we all need to grow the fuck up and accept it for all the same reasons, too. Thank you for attending Professor Will's Introduction to Short-Sighted and Potentially Dangerous Apathy. Now let's have a beer.
Honker's Ale is an English bitter, which is an old-school (and decidedly unbitter by modern American standards) style that's fallen out of favor with most beer geeks, but I like it, which makes me cool. If you drink it, you'll be cool too. (I mean, not if you ALL drink it, obviously, which is why we're slipping this one in on the Friday before a long weekend.)
One of the reasons I like a nice bitter is that they tend to be lower in alcohol, and I am something of a volume scorer when it comes to all liquid matter. The concept of "session beer" is a valuable one, but I find some of the descriptions of them to be almost condescending. "This is light and clean and I could drink it all day" is certainly no insult, but I don't always need someone beersplaining how many I should have of anything at a given sitting, and furthermore, if your beer's primary attribute is that it takes a real long time for it to smash me up, I'm going to have to pass. I like to get a bit too clever after an extended bout of drinking good beer, not just bland beer that goes down easy.
Honker's pours a nice copper color with a thin and unusually persistent head of tiny bubbles. The label promises a beer that "perfectly balances fruity hop aroma with a rich malt middle," but the fruit is very faint on the nose, which smells nicely reminiscent of a Heath bar that was dropped in fresh sour mix and fished out immediately. The fruit does emerge a bit with time in the glass, providing a musty apple edge to the predominant caramel malt and light biscuit flavors. Honker's has a super-short finish with just a smidge of pine resin that keeps a thirsty person diving right back in.
G/O Media may get a commission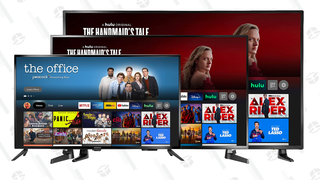 Up to 44% off
Prime Early Access - Insignia Fire TVs
If you're hip enough to drink a lame style of 4.3-percent ABV beer sold by a giant, soulless corporation, Honker's is your stuff.
---
This is Drunkspin Daily, the Concourse's adequate source for booze news, reviews, and bullshit. We'll be highlighting a beer a day in this space; please leave suggestions below.
Will Gordon loves life and tolerates dissent. He lives in Cambridge, Mass., and has visited all of the other New England states, including, come to think of it, Vermont. Find him on Twitter@WillGordonAgain. Image by Jim Cooke.
The Concourse is Deadspin's home for culture/food/whatever coverage. Follow us on Twitter:@DSconcourse.