GQ's Jason Fagone drops a monster storyabout the shoot-em-up outside Marvin Harrison's North Philadelphia car wash back in April of 2008. The case was derailed by uncooperative witnesses, Wire-like shadiness and lack of evidence. Until now, the truth was elusive.
Fagone did exhaustive research and gained access to some of the more incriminating details that were unavailable during the initial investigation. It dragged on long enough for most of the sports media to lose interest, since Harrison quietly semi-retired before the 2009 season and one of the victims who accused Marvin of shooting him, Dwight "Pop" Dixon, was (coincidentally) shot and killed a little more than a year after the Playmakers incident. We also get, for the first time, Harrison's statement to Philly detectives about what the hell happened that night:
Harrison admits that his fight with Pop took place "five to ten minutes before" the shooting. He says that immediately before he heard the gunshots, he was "sitting in the doorway of my garage." The detectives ask him if Pop had a gun that day. Harrison says "no." In his own words, then, Harrison establishes his motive, puts himself at the scene of the crime, and eliminates any possible self-defense defense.
The real doozy, though, is that Harrison admits to continuous and unbroken custody of the gun.
q. When was the last time you or anyone else fired your FN 5.7-caliber handgun?
a. Probably the day that I bought it.
q. What day was that?
a. In 2006 or 2007.
q. Where do you store this weapon?
a. In a safe at my home in Jenkintown, Pa.
q. Today, you had it at the car wash? Do you know how it got there?
a. I brought it today, twenty minutes before you came.
q. Are you saying that the 5.7-cal handgun that you own was in the safe at your home up until today, when you decided to bring it to your shop in the 2500 blk. of Thompson St.?
G/O Media may get a commission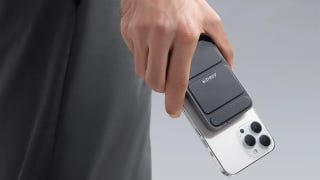 15% off
15% off Anker Top Ten Products
Take charge
Treat yourself to a portable power bank, a magnetic wireless battery for iPhones, or even a solar generator. There is a reason these are in the top ten. For instance, the Anker 747 Power Bank is a 4-in-1 charger utilizing USB-A and USB-C to be capable of charging up to four devices at once. Great to take with you when traveling and in need of keeping your phone, laptop, and even Nintendo Switch powered on.
a. Yes.
That "yes" is the sound of a trap snapping shut. Harrison says his gun hasn't been fired since 2006 or 2007. That's impossible. Fresh casings exist, so the gun had to have been fired. But by whom? Harrison says he doesn't know. All he knows is that the gun couldn't have been lent or stolen, because it was locked away the whole time in his suburban safe. Only it couldn't have been in the safe, either, because it had to have made an appearance at the corner of 25th and Thompson.
Harrison's story makes no sense.
Fagone also gained access to one of the flip-flopping witnesses, Robert Nixon, who still sits in a Pennsylvania prison with a bullet lodged inside him from the night of the shooting:

Robert Nixon's jeans are scuffed. His hands are folded in his lap. His glasses give him a sort of professorial, beatnik vibe-a pudgier version of Cornel West. He calls me "sir." In fact, Nixon is deferential to the point of meekness until the moment I ask him about Pop's murder. Does he think it was meant to send a message to any other potential witnesses? "Are you kidding?" Nixon says, startled. "Do you think it was a message?" Nixon shoots a look to his attorney, Wadud Ahmad, a powerfully built black man who is sitting in on our interview, and the two of them explode into howls of laughter, as if I just asked the dumbest question in the history of white people.
Nixon is here on a misdemeanor drug conviction. Perversely, he says he's glad for. "That's probably the best thing that happened to me. That's how fucked-up my life is with this. [Jail is] the safest place for me." Nixon says he would move himself and his family to another city if he could afford it, but he can't. He's now suing Harrison in civil court, claiming damages from the shooting.
It's an incredible read, and finally gives us a more vivid picture of exactly what kind of man the "quiet, hard-working" Marvin Harrison was off the field.
The Dirtiest Player [GQ]