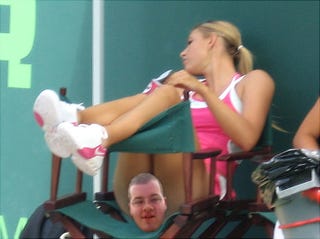 Hello again, faceless internet cro-mags. A.J. Daulerio here to guide you through this glorious autumn day full of dead leaves on the dirty ground and sweaters stuffed with cold tits. Hopefully, I'll play a small part in making your day of corporate drudgery fly by as quickly as possible so you can attend your Friday happy hour with the appropriate amount of vim and vigor.
Most of us are already acquainted, but for those of you new to Deadspin and clicked on expecting the comedic stylings of William F. Leitch, he's taking the next couple days off to attend a wedding in Bermuda for Mr. Greg Lindsay, lover of airports.

Say a little prayer that neither of them are involved in any paralyzing scooter accidents. You can't walk a block at that place without almost getting killed by Sweetchuck.
So, once again, I have no tips@deadspin.com. Instead, use this: aj@blacktable.com or AIM me at johanwhee if you have something urgent or you just enjoy winking kissy-faced methods of communication. Or give my buddy Carl a call at 267-981-6785 just to fuck with him. Guy never answers his phone anyway. If he does, tell him to get off his fat ass and hang out with A.J. more often.
The above photo was presented as Exhibit C in the Maria Sharapova creepy Asian cooter-shooter case, with some doctoring by Thee Jim Cooke University. Thanks to the muckraking wizards at The Smoking Gun for their tireless pursuit of untainted truth. You are doing God's work, gentleman.
Anyway, rise up, gather 'round, etc.