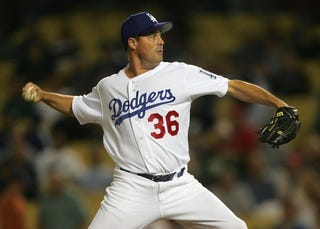 Greg Maddux, 42, will be officially retiring from baseball at the winter meetings on Monday. Maddux, who finished last season coming out of the bullpen for the Dodgers, was essentially a mop-up man as LA lost to the Phillies in the NLDS. It's a shame, really, because those Flomax and Depends endorsements were right around the corner.
Maddux, a nine-time All-Star while pitching for the Atlanta Braves and Chicago Cubs, started his major-league career in 1986. His 355 victories rank eighth in major league history, one more than Roger Clemens, with Maddux earning his final win by holding the San Francisco Giants to one run over six innings on Sept. 27.

The Dodgers acquired him from the San Diego Padres in August — the second time in three years the Dodgers traded for him to fortify their rotation in a pennant stretch — and he was 2-4 with a 5.09 earned-run average in seven starts.

Every 300-game winner eligible for the Hall of Fame has been inducted, with Maddux, Clemens and Tom Glavine not yet eligible.
Maddux has been one of those guys that just went out and did his thing; he's an odd athlete, really, because nobody will ever jump up and scream, "I saw Greg Maddux pitch! And it was awesome!" He was amazing at what he did, and that Braves staff of the 1990s featuring Maddox, Glavine and Smoltz might have been the greatest ever. Here's hoping he did enough to inspire the next generation of nerdy, unassuming white guys that never get into trouble.
Greg Maddux to retire on Monday [LA Times]