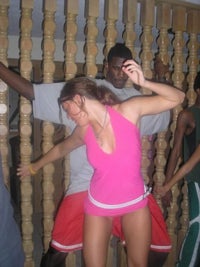 Today's issue of the Oregonian includes a revealing feature on Blazers rookie Greg Oden. Joe Freeman does an excellent job conveying his subject's personality to the reader and even the Buckeye hater in me can't help but lighten up. It's not the first article to praise the young star but it does cover a wide range of topics from money and family all the way to playoff expectations. Follow the jump for an excerpt.
But Oden's most recent conundrum is perhaps his most troubling: Members of his extended family are asking for money, even though he already provides assistance.

"I didn't expect that at all," Oden said. "I thought my family was cool. You hear stories, but I'm like, nah, my family is cool."

Oden's mother, Zoe, has put her son on a strict budget in the early stages of his professional career, and they have hired a financial planner to manage his funds. He might earn millions of dollars a year, but Oden is living off a $10,000 biweekly stipend.

"They were living with a lot less money than what I am hooking them up with," Oden said of his extended family. "I'm like, 'You can make (the money I give you) work.' I'm getting $10,000 and I bet you I won't use more than $2,000 of that every two weeks. Because I don't need it. And they don't, either."
Oden really does seem like a great guy kid person. At a time when lots of American fans would like the write off the NBA as a league of thugs guys like Oden and Kevin Durant are set to join a league full of amicable young superstars.
via FanHouse