Every morning, the fine folks at Sports Radio Interviews sift through the a.m. drive-time chatter to bring you the best interviews with coaches, players, and personalities across the sports landscape. Today: Pop's wife gets on him for it, too.
Greg Popovich joined 790 the Ticket in Miami with Dan LeBatard, Stugotz and Stan Van Gundy to talk about why he makes things so tough on courtside reporters, on getting criticized by his wife when he gets home for how he handles courtside interviews, how tough it was to see all the drama with Stan Van Gundy and the Magic, why he made all of his players watch the Presidential debate and who he thinks the best team is in the league.
Why he makes things so tough on courtside reporters:
"I know. I'm a jerk. I'm going to go ahead and admit it publically to the whole world. Tell me what to do. What should I do? The quarter ends, you just got outscored by 12 points, they had eight offensive rebounds so the question will be 'you just got outrebounded by X amount so what are you going to do about it?' I don't know. Am I going to make a trade during the timeout? I don't know. I'm going to do drills here for a while by the time the game starts, I don't know. I'm not going to do anything. I'm just going to go back to the bench and hope we play better. I don't know how to answer so sue me for being stupid and not having the answers to the questions. (Host: Keep doing it, it's entertaining.) It entertains everybody but my wife. When I get home and she says 'geez why are you so mean? You're a jerk, people hate you.' I go I'm sorry honey, I have to do better next time."
On being criticized by his wife when he gets home:
"And there's no exaggeration. Did you see that guy honey? Did you see him? All you have to do is see him and you know why I answered the way I did. (She says) 'That's no excuse, you're a grown man. Show some maturity.' I said 'I can't, I can't do it."
What it was like seeing the drama in Orlando with Stan Van Gundy and Dwight Howard:
"It was agony. It was agony because when one of your colleagues, this is no BS ,but when one of your colleagues is as gifted as Stan and does as good of a job as he did and then every day is just this saga that won't go away it's no fun for anybody. You have to go to work every day, hear that, be a part of it, you have to try to be above it, you have to do your job, your team has to play hard for ya and it's really an impossible situation. George Karl went through that in Denver. It's bad for everybody so I'm just glad that he is finally a free man."
G/O Media may get a commission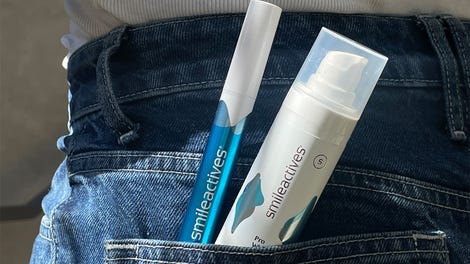 58% off
Whitening Powerhouse Pen & Gel Duo
Why it seems like there is never any drama in San Antonio:
"I think the first thing is we're just lucky because it's a small market. Anything that happens in a bigger market you hear about it. When I go to a press conference, like shootaround in the morning or before the game, there might be like one and a half people there. It's like easy for us because nobody really cares because it's a small market. Secondly we've had guys over the years that are, they're no better than anybody else, but their personalities are such that they don't really look for the limelight. Tim Duncan, the last time he talked to me was like three months ago."
Why he decided to show all of his players the Presidential debate:
"I think there's a little more than basketball going on in all of our lives. I think it's a pretty big election for a lot of reasons whether you're on one side or the other, everybody these days is pretty polarized and feels pretty strongly about their side and I just thought players that realize and we realize there is more to it than just basketball it kind of makes them think that maybe you do care about them, maybe there's a reason to enjoy where they're at and it creates talk amongst their teammates. Some of them could care less, some of them laugh and get a big kick out of it and some of them are really serious so it's kind of a starter, it's one of those camaraderie deals where nothing but good could come from it. Unless two of them are so polarized that they get in a fight over it. Short of that it's just kind of fun to do."
Who he thinks is the best team in the league:
"(Sighs) I would say as we speak Oklahoma City. Obviously the Lakers, we're all waiting to see how that talent and potential gets put together and it could be awesome if it gels correctly and everybody plays for each other than they're going to be right there and maybe even have a better shot than Oklahoma City because they are so talented and have so many pieces. (Host: You know we are on in Miami right now Pop?) Yes I do but I only think about the West. The East isn't even in my mind. From somebody who is in the West all you think about is get out of the West and if you can do that then who are we going to play. If we don't get out of the West it doesn't matter who is in the East."
This post, written by Chris Fedor, appears courtesy of Sports Radio Interviews. For the complete highlights of the interview, as well as audio, click here.
More from Sports Radio Interviews
• Jerry West says it's a great time to be a Warriors fan.
• Pete Carroll wants to beat the Patriots very badly.
• Nate Washington can't wait to face the Steelers without Polamalu.