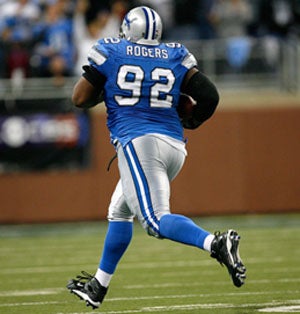 The Mighty MJD's Smorgasbord runs every Monday. Do enjoy.
• The waitress this week is Muff Stubble Girl, who you might recall from past Smorgasbords this season. I shouldn't call her that anymore ... one, because it's not very nice, and two, because her pants are at a reasonably normal level these days. It's getting cold outside, she has to. She's actually dressed pretty conservatively today, by her standards ... don't get me wrong, it's still pretty slutty by any sort of conventional standard, but for her, she's postively nunnish.
• You know, the group of 1:00 games today ... it really sucks balls. It's almost like the league did it on purpose. If you've got a great main event, why bother putting together a good undercard? No one's going to remember any of it at the end of the day anyway.
• That is, unless, the Jets manage to upset the Redskins. It is only acceptable to lose to one AFC East team this year, and it's not the Jets ... I can't deny that I'd enjoy this. Any sort of positivity achieved by the Jets in 2007 would have to be considered surprising and memorable. Leon Washington returns the opening kickoff to the house.
• FOX analyst Tony Siragusa on where the Jets should go from here: "One thing the Jets don't want to do right now is to give up a return touchdown right back." Surprisingly, Moose Johnston does not offer a counterpoint to that flimsy argument.
• A fellow named Legudu Naanee has caught a couple of passes early in the game for the Chargers. I do believe that these are his first touches of the year. I'm not sure how you pronounce his last name, but I think the Jumbotron at Qualcomm should play the clip of Ned Nederlander summoning the Invisible Swordsman every time he makes a play. "Chipchipchipchipchipchipchipchipchipchip ... NANNY."
• Hey, it's a Koren Robinson sighting. He's in uniform for the Packers today. I guess it's a good sign that we never heard a peep from Koren Robinson during his year-long suspension ... it's so hard these days for a guy to be suspended and not end up winning the TNA World Tag Team championship at some point during his banishment.
• In the first quarter of the Redskins/Jets game, there have been 115 yards of combined total offense. And it's still among the more entertaining early games.
• Tarvaris Jackson throws a little dump-off pass over the middle ... a pass that travels about a distance of 4 yards, and misses its target by about a distance of 3 yards. Tarvaris Jackson throws the ball approximately as accurately as Chargers punter Mike Scifres punts it.
• Uh oh ... Jay Cutler's getting a free cart ride. I have no idea who might be the backup in Denver. It couldn't still be Bradlee Van Pelt, could it? Is Steve Beuerlein around? Bubby Brister, maybe?
• Nope. Patrick Ramsey. That guy had a bright future a long time ago.
• Kellen Clemens hits unstoppable offensive force Joe Kowalewski for the touchdown pass, and the Jets have an improbable 17-3 lead. It's just like everyone said would happen ... the Redskins don't have an answer for the Joe Kowalewski matchup.
• Maurice Jones-Drew returns a kickoff for a touchdown, and was pretty clearly gone at about his own 25-yard-line. For some reason, and this doesn't speak well of the Saints coverage unit, Olindo Mare is the first (and only, really) player to get a clean shot at Drew ... and he got it at about the 20-yard-line. He whiffed, of course, because he's Olindo Mare. But that's about the earliest I've ever seen a kickoff return become a certain touchdown.
• And now Jags quarterback Quinn Gray hobbles off the field ... who the fuck backs up Quinn Gray? I'm staying with the Quinn theme and guessing Jonathan Quinn. My theory is that Jack Del Rio was a huge fan of Dr. Quinn, Medicine Woman and uses that show to make many of his personnel decisions.
• Nope. Todd Bouman. I think we're one hit away from Matt Jones being under center. But dear God, how could the Jags stand to lose his contributions at wide receiver?
• #83, a fellow named Mike Leach, is practicing taking snaps on the Denver sideline. You might remember Mike Leach from his glory days as a punter and tight end at William & Mary, until the team dropped their football program, and he transferred to Boston University. Anyway, yeah, this guy could be playing some quarterback today. I am excited.
• Kellen Clemens is currently 11-of-15, having completed passes to 7 different receivers. That's pretty amazing for a young quarterback.
• A commercial for some new bacon-heavy sandwich at Burger King inspires a brief conversation about the best bacon-involved burgers at fast food restaurants. Eventually, we just decide that the best thing to do would be to eliminate the middle man, and just make a ground bacon burger, with the option to get bacon on it. If Burger King were to actually do this, it would kill 10% of the American population in about 6 months.
• The Juice comments that one of the other waitresses, a very, very, thing young woman, could use a ground bacon burger. "Her arm, seriously, is thinner than my cock."
• She refuses to take a side-by-side measurement.
• Dear God ... I think Antonio Cromartie just pulled off the longest play in NFL history. He caught a missed Vikings field goal in the back - the waaaay back - of the endzone, and then housed it with unbelievable speed. That was about 109 yards and 34 inches ... his toe was just inside the endzone. Incredible play, and it swings the score from potentially 10-7 Vikings, to 14-7 Chargers. To be honest, we don't quite deserve this lead.
• Antonio Cromartie has equaled the scoring output of the Carolina Panthers over the past two weeks.
• Speaking of the Panthers, David Carr is sacked (unusual, I know) ... and then decides that he can just get up and run with the football. Apparently, Carr alone has decided on a new NFL rule that says the first sack made against David Carr on any given play doesn't count. I actually think this rule would be pretty fair ... if you sack David Carr once, you have to let him get up, and then count 5 Mississippi before you can sack him again.
• Our waitress is sitting down and chatting with us now ... as it turns out, The Juice knows her. She starts telling us about a Halloween costume contest, where she won $200 for her ladybug costume. "My friends were like, 'How did you win with a ladybug costume?' and I was like, 'Well, I was half-naked'." See, I was worried that women weren't aware that Halloween had become a holiday designed to exploit them. But nope ... they're aware. That's a load off.
• Drew Brees has 336 passing yards at the half. Against Jacksonville, who I thought had a reasonably good defense. At this point, I'm buying the Saints resurgence more than I'm buying the Chargers resurgence.
• And that's partially because Adrian Peterson just can't be stopped today ... he's gashing the asshole of the Chargers defense, play after play.
• So naturally, Brad Childress gives Chester Taylor a few carries ... and he fumbles, almost immediately.
• Detroit is absolutely whitewashing the Broncos ... Jay Cutler has even returned to the game. It's 30-0, Detroit.
• Behind a Clinton Portis TD and an Antwaan Randle-El 2-point conversion, Washington's finally taken the lead against the Jets. It is time to rally, Kellen Clemens.
• By the way, I'd like to mention that Chad Pennington has taken his benching extremely graciously ... not that he had a choice, really. What was he going to do, scream, "This is bullshit, I AM CHAD PENNINGTON"? How could he expect anyone to keep a straight face through that?
• This might be my favorite camera shot of the year: TJ Houshmandzadeh's on the sidelines, showing Chad Johnson how to catch. I'm sure there's more to the conversation than that, but ... that's what it looks like. Housh is standing in front of him, barking at him, demonstrating what a guy's hands should look like when trying to catch a football.
• The Chargers currently have 35 rushing yards against 45 penalty yards. This is what happens when you're missing your starting center and you're going up against Vikings DT Pat Williams. You've also got to think that Norv Turner's a factor there.
• Marshawn Lynch throws his name into the conversation for "Best quarterback currently playing in Buffalo" and hits tight end Robert Royal with a TD pass. Royal then breaks out the Crank That Soulja Boy dance thing that's so popular with the kids these days.
• By the way, anyone know what the fuck that guy's saying in that song? Also, exactly how do you go about supermanning a ho? That sounds like something I'd like to try.
• And Sidney Rice of the Vikings gets loose for a long TD against the Vikings ... it's 21-14. The Chargers might come back to win this game, I don't know ... but as far as I'm concerned, they're being exposed right now. The Vikings have closed off the lanes for LaDainian Tomlinson, and they've taken Antonio Gates out of the game ... which puts things on the shoulder of Philip Rivers, who has regressed like an Alzheimer's patient.
• Big Shaun Rogers of the Lions intercepts a Broncos pass (yes, it's that bad) and starts trampling to the endzone at about the pace of a tugboat. Selvin Young catches him from behind and ... OHHH, HAVE SOME STIFF-ARM, MOTHERFUCKER. That's the greatest stiff-arm by a defensive lineman in the history of the NFL. I can't be sure, but Shaun Rogers may have just supermanned Selvin Young.
• Brett Favre launches a pass, falling backwards, off the wrong foot ... and it's a perfect strike down the middle to Greg Jennings for the touchdown. Just an amazing throw.
• Wait ... is this what it means to superman a ho? Because that's fucking sick. Who the fuck comes up with these things? And am I the last one to know this? Because when the rest of the white people in the world find out what they've been dancing to, they're going to be really upset. Fair warning.
• And that is certainly not what Shaun Rogers did to Selvin Young. I don't know if it would be more or less humiliating, though.
• Uh oh ... Larry Johnson's getting a free cart ride. He was primed to have a great second half of the season, from a fantasy standpoint. I don't know how serious it is, of course ... serious enough to warrant a cart ride, though. It's Priest time.
• The Nuge sends the Jets into overtime with the Redskins, with a last-second field goal.
• The Chargers are just being owned by Adrian Peterson ... it's one thing to shut the Chargers offense down. Their success the last couple of weeks was based more on the ass-awful play of their opponents ... that's not a total surprise. But the defense getting owned at the line of scrimmage like this, by the Vikings offensive line ... that is a surprise. I'm embarrassed.
• Oh boy ... Chad Johnson is down, and it doesn't look good. He's getting the full stretcher/neck-stabilizer treatment. His mouth is hanging open, and his hands are sort of floating about aimlessly as they wheel him off. Let's hope he's alright. What I wouldn't give to hear a random "HUE!" right now.
• And the Redskins top the Jets in overtime ... 'tis a shame. The Redskins fans in the joints just go crazy when the winning field goal goes through. Is that really an appropriate response? I mean, you barely beat the Jets ... concern and relief seem like more appropriate emotions than utter joy.
• But hey, who am I to judge ... my team just gave up 296 rushing yards to a rookie. And if Brad Childress had been Bill Belichick, Peterson would have had 400.
• Patriots/Colts is underway now, too ... early on, Joe Addai is just carving up the Patriots.
• I really don't feel like watching this. It's difficult to watch quality football being played when your favorite team has just been dominated in every phase of the game. I can't watch any decent football right now.
• What I'm saying is this: I've got a FEVER. And the only PRESCRIPTION ... is RAIDERS/TEXANS. Or I might just nap for a little while.
• My fantasy team also features three players from the Raiders/Texans game ... which is also not a good sign.
• There's some fucking idiot behind me, who, whenever a running back on his fantasy football team gets a carry, yells, "RUN IT! RUN IT!" As opposed to what, dickface, do the worm with it? He is running it. The decision to run the football has already been made, asshole. Why not add in a "MOVE TOWARDS THE ENDZONE!" or "TRY TO SCORE MORE POINTS THAN THE OTHER TEAM!" cheer?
• Seattle/Cleveland suits me just fine at the minute, too ... there's a Browns fan here with a throwback Bernie Kosar jersey on. I can't decide if this is one of the stranger jersey choices I've ever seen, or if it's just an indictment of the entire history of the Cleveland Browns. There may not be a better option.
• Ron Dayne has entered the game for the Texans ... and Ron Dayne is not fucking around today. He scoots through the Oakland defense to give the Texans a 14-0 lead. Losing 14-0 to the Texans at home, by the way, is not an indication of a good football team.
• Sebastian Janikowski, before the half, is lining up to attempt what would be an NFL record 64-yard field goal. Gary Kubiak calls time-out to ice him ... do we really need to ice guys before they try 64-yard field goals? Also, icing the kicker assumes that he has some sort of awareness of what's going on around him, which I'm not sure is the case with Sebastian Janikowski.
• Holy fuck. Janikowski missed, but ... he hit the upright, and he hit it at least halfway up the post. Two inches to the left, and that thing would've been good from 70. Easily. What a freakish leg on that guy ... it would be a shame to see him waste it if he wasn't a Raider.
• I'm ready to ease into Patriots/Colts a little bit ... one can only squeeze so much excitement from Raiders/Texans. Joseph Addai is doing some brilliant work catching the underneath balls ... he takes that one 73 yards down the sidelines for the touchdown.
• Oddness on that play: Randall Gay was chasing Joseph Addai ... as was Rodney Harrison, who was behind Randall Gay. Rodney Harrison, for some reason, decides to push Randall Gay down. I can't explain that. Maybe he hadn't gotten in his customary cheap shot this quarter, and Randall Gay had to be the one to pay for it.
• Ooooh ... No Country for Old Men, the movie. That commercial may be the most pleasing thing I've seen all day.
• That one-handed catch over the middle by Randy Moss ... that's just not fair. I don't have the first clue how that guy is able to do some of the things he does. It's almost not human.
• An actual cheer is heard in the room when the McDonalds "McRib is back" commercial comes on. The people love their McRibs.
• It's 13-10 Colts to start the 4th quarter ... and you know, regardless of what happens from here on out, I've gotten what I've wanted out of this game: the knowledge that someone can beat the Patriots. They might not hold on to do it, but the Colts played well enough to lead through three quarters, and that's good enough for me. I can at least leave here today feeling like the a Patriots championship is not a foregone conclusion. Likely, perhaps, but not a foregone conclusion.
• Marlin Jackson makes a nice defensive play for the Colts ... and the "RUN IT! RUN IT!" guy yells, "Yeah, Bill, go get your sweatshirt and cut it up, buddy!" Just vicious trash talk. This guy goes straight for the jugular. Thank God Belichick can't hear him ... he'd need weeks of therapy after that verbal torture.
• Big play: Peyton Manning completing a pass in a narrow spot to Dallas Clark to pick up a 3rd-and-15. The throw was impressive, the read maybe more so. The Colts finish the drive with a Peyton Manning sneak for a TD, and it's 20-10 in the 4th quarter. Hm.
• And just minutes later, Tom Brady goes deep to Randy Moss, and completely changes the complexion of the game. Unfuckingbelievable. The Colts are plodding along, efficiently and confidently, keeping things under control ... and the Patriots strike, just like that. Such is the magic of Randy Moss. It's a gain of 55, while Antoine Bethea was flagged for interference on the play.
• According to Phil Simms, Bethea also lined up 25 yards off the line of scrimmage against Moss ... and Moss still beat him deep.
• The Colts punt the ball away to Wes Welker, and Welker, astutely following this guy's "RUN IT!" instructions, gets the ball to the 50-yard line ... which is nice starting position when you're down 3, with 3:58 to play. Hard not to like the Patriots chances here.
• Kellen Winslow Jr. catches a ball inside the 1 for the Browns ... the play is reviewed to determine if he had crossed the goal line, and the call goes against the Browns. Winslow then has to spend the next 30 seconds trying to get his own fans to shut the fuck up with the Browns are on offense. It just stands in such stark contrast to Indy, where the crowd is always dead silent when Peyton Manning's operating.
• Hey, Tim Dwight scores a touchdown for the Raiders. When did he get back in the league?
• The Patriots score ... maybe too soon, though. They leave 3:10 on the clock for Peyton Manning from his own 24. Come on, Peyton ... lets make this happen. You lead a touchdown drive here, and I swear, I'll leave this place and go buy a Kenny Chesney album. I will. I promise.
• Ah, fuck. Manning's hit from behind, and fumbles the ball away to Roosevelt Colvin, and we're done here. Colvin, of course, has to trot to midfield and spike the ball directly down onto the Colts helmet. Thank God, I was afraid the Patriots were going to go an entire game without doing something to seem like assholes.
• I should've never made that Chesney promise. God thought it was more important that I be protected from the bad music and deviant gay messages you can hear when playing Chesney CDs backwards, than it was that good triumph over evil in the Colts/Patriots game. That was my fault.
• Bill Belichick and Tony Dungy meet at midfield, and exchange the least friendly handshake in the history of handshakes. You know what Bill Belichick could have done to gain my respect right there? He could've firmly grabbed Dungy's hand, pulled him in close, and said, "You know what else, Dunge? I love cock. I could suck it all day long. God, I love being gay," all the while, squeezing Dungy's hand and not letting him go. That would have made me a Patriots fan.