The 50 American states share a flag, a superiority to Canada, and a passion for chicken fingers, but on most other counts they stand divided. For instance, we have half a hundred different sets of liquor laws; the only unifying theme is that each state adheres to the Constitutional mandate that its booze rules must bear no resemblance to those of the states it borders. This is why it is illegal to drink rum while slouching in Missouri, an act that is perfectly permissible in Kansas, where drinking red ale while wearing a blue shirt is punishable by death.
Most of the quirkier state alcohol restrictions stem from good old-fashioned corruption and stupidity, which is why legislatures are so reluctant to change them. But every now and then, a plucky young lobbyist will try to right a historical wrong by arguing for a new rule on behalf of whoever's paying, and since very few people make money by keeping us sober, the proposed changes usually favor the drinker. These days a lot of the debate surrounds growler-filling regulations, due to the rise of nanobrewing operations that often make great beer that they can't afford to bottle for the first year or so.
As of July 1, Floridian breweries will finally be allowed to fill 64-ounce growlers; Anheuser-Busch and allied interests had for years successfully limited Florida Man's ounceage options to an insufficient 32 or a preposterous 128. And in Massachusetts, breweries can only fill their own branded jugs, which means a well-drunk Masshole needs a dedicated growler closet to store all the big glass bottles he's hoarding in case he ever makes it back to all the different little breweries scattered around the commonwealth. Proposed legislation would end that, though, by providing for universal growling, which would be both good and bad.
The good part is obvious, and even the bad part isn't that complicated from a consumer perspective: Growlers are cool as hell, no doubt about it. But they're also pretty shitty beer-storage devices. Draft beer simply isn't meant for takeout, as the growler-filling process exposes the good stuff to oxygen and all sorts of other atmospheric mayhem that can corrupt beer (sweat, bacteria, beard hair). Even when everything's kept as clean as possible and the jugs are purged with carbon dioxide to guard against oxygenation, day-after growler dregs just aren't as good as bottled, canned, or kegged beer.
I only buy growlers when there's no other option, which is why I'm of two minds about this legislation: I'm all for consumer choice, and I respect that for some people the festive element of a growler makes up for the compromised quality, but I don't want to encourage brewers to take the easy way out. You've already declared your financial recklessness simply by opening for business; might as well throw a canning line on top of the debt pile!
G/O Media may get a commission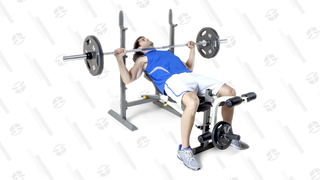 10% Off
Marcy Folding Weight Bench
Drunkspin headquarters is just a few blocks away from Cambridge Brewing Company, a brewpub that makes good base-model beers and excellent smaller-batch stuff. The only drawback is the place gets packed with tech-industry folk who aren't always great at concepts like indoor voices and personal space, so I find that CBC beers are best enjoyed at home. The trouble with that, until recently, was that only their basic (and, to my tongue, lesser) beers were available to-go in growlers. But they've started to bottle and can a few of the higher-end offerings, including my new favorite, a Belgian Golden Ale called Morning Dew.
Morning Dew's ingredient list makes it seem like a fussier affair than it ends up resembling in your glass, which is surely to the brewer's credit. I don't know why this beer needs multiple malted and unmalted grains including rye, buckwheat, and barley—nor do I know how or why elderflowers are incorporated—but I do know the resulting beer is very fruity, lightly spicy, and highly refreshing. And I love it.
The 4.9-percent alcohol-by-volume Morning Dew pours deep, hazy gold with a fluffy white head, and it smells like flowers (elder ones, I suppose?), peaches, and melons, with lighter notes of citrus, pine, and spice from the rye and the Belgian yeast. The flavor leans in a curious and welcome berry direction, with some apple and sweet grain, too.
Morning Dew is a complex beer, but an approachable and easy-drinking one, with a perfect (which is to say, small) dose of elderflower complementing the interesting mix of Hallertauer and Nelson Sauvin hops, plus all those grains. Spend the $7 on a 22-ounce bottle if you see it at the beer store, or trek over to the brewery to have one on tap. Morning Dew isn't available in growlers, nor should it be.
---
This is Drunkspin Daily, the Concourse's adequate source for booze news, reviews, and bullshit. We'll be highlighting a beer a day in this space; please leave suggestions below.

Image by Jim Cooke.
Will Gordon loves life and tolerates dissent. He lives in Cambridge, Mass., and some of his closest friends have met Certified Cicerones. Find him on Twitter @WillGordonAgain.