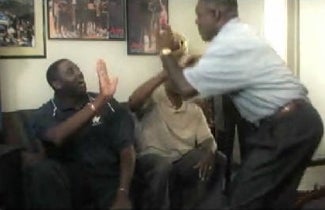 Thanks to the increasingly indispensible DC Sports Bog, we have the rare opportunity to see the head coach of a major college basketball franchise pretty damned excited to get himself a prostate exam.
It's Karl Hobbs, coach of George Washington, innocently watching a basketball game with his assistant coaches when his wife breaks in and informs him — in a fine example of Method acting — that it's time to get his prostate checks. And then it's high fives all around. (Considerably more comfortable high fives than the Tiger Woods variety, we might add.)
We mean not to make light of the need to have your prostate checked; every man should do it, we suppose. In fact, such enthusiasm hopefully will become contagious. Heck, we sense an awkward Bud Light commercial anyday now. Or maybe Coors Light: Let's start a love train!
Karl Hobbs Is Excited! [DC Sports Bog]
Prostate Exam Commercial [GWU]