Today the NBA played the league's first-ever game in Africa, pitting "Team World" against "Team Africa" in Johannesburg. The game—which managed to be largely boring, yet still a breath of fresh air in the final dog days of summer—was won by Team World, 101-97, and featured one nostalgic and genuinely cool moment when Hakeem Olajuwon and Dikembe Mutombo (who are 52 and 49, respectively) suited up in retro uniforms and took the court. The duo got a standing ovation. Olajuwon even scored, using his marquee move, the Dream Shake, to hit a jumper over Nikola Vucevic.

The moment wasn't cool because we got to see them suit up again; if I want to see a couple of middle-aged men play basketball with some young guys, I'll go to the Y. What it did, at least for me, was remind me of my first memories of watching Olajuwon play—which, oddly, are some of my first basketball memories. I'm 21 years old.
The main reason I know of Hakeem Olajuwon better than most old basketball players is from all the time I've spent watching old clips from the 1983 NCAA tournament. That's the year my team, N.C. State, upset Olajuwon's "Phi Slamma Jamma" Houston squad. (Thats still the coolest unofficial team nickname in sports.) It's in the NBA that Olajuwon became a legend, but his college days are what stick out to me.

Obviously, the title game is my personal favorite from the tournament, but it was the semifinal—in which Houston and Louisville played at an insane back-and-forth pace for 40 minutes until the Cougars finally pulled away to win 94-81—that best shows what Olajuwon was capable of already at just 20 years old.
It's Saturday, so if you don't have anything else to do (or even if you do) I highly suggest you watch this game. You'll get to see Houston play the truly beautiful transition basketball it was famous for, and you can see young Hakeem just dominate what was actually a very good Louisville team. Albeit, this is college basketball, but look at Olajuwon on the boards. He finished with a cool 21 points and 22 (!) rebounds against the No. 1-seed Cardinals that night.
Having spent all my 21 years reading about and watching this single tournament, I feel confident in saying Phi Slamma Jamma was the greatest team in college basketball to not win a title. With a roster filled by Olajuwon, Clyde "The Glide" Drexler, Michael "Silent Assassin" Young, and Benny "The Bomber From Bernice" Anders, the Cougars lost just eight games throughout the 1983 and 1984 seasons. They had a shot at title both years, but were famously upset by Lorenzo Charles and the Wolfpack in 1983, and edged out by Patrick Ewing and Georgetown in 1984, after which Olajuwon bolted for the NBA.
Of course, it's hard to feel bad for them considering Olajuwon and Drexler ended up having amazing NBA careers, which is the reason we still talk about the Houston teams today. But even in the college tapes, you can see flashes of the moves Olajuwon would use to lead the Houston Rockets to two NBA titles. Who knew something as simple as pivoting could make grown men look like little babies? Hakeem, that's who. And he knew it from the start.
G/O Media may get a commission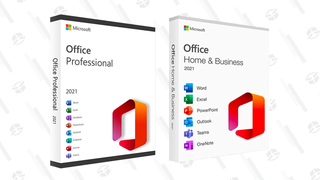 89% off
Microsoft Office Professional 2021 Lifetime License
Photo: AP