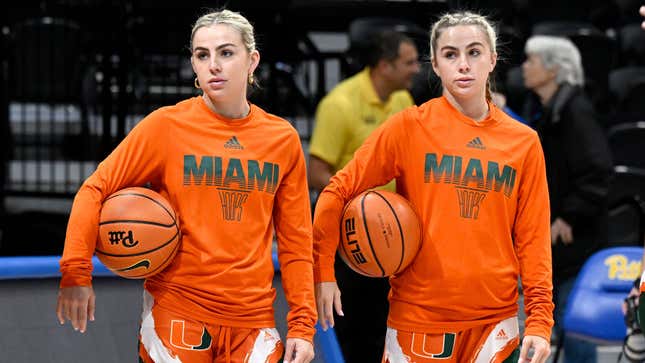 Last week, we saw the NCAA hand out its first-ever NIL ruling — the result of an infraction between twins on the University of Miami's women's basketball team — Haley and Hanna Cavinder — super-rich donor Canes donor John Ruiz.

Grant Hill looks to repeat Team USA's 2004 "success"
Haley and Hanna Cavinder are both college basketball players and Tik Tok superstars, boasting over 4 million followers, who joined the Hurricanes after transferring from Fresno State last season. Before the 2022-23 season even started, the NCAA suspended Miami head coach Katie Meier for three games for a Level II violation of the NCAA rules. What was Meier's crime? She reportedly organized a meeting between the Cavinder twins and school donor Ruiz.

What NIL infractions look like, so far
The NCAA states that a Level II infraction is a "significant breach of conduct." That can include anything from the head coach failing to do their job properly to eligibility violations.

In Miami's case, the violation occurred when Ruiz invited the Cavinder twins and their family over for dinner before they became athletes at the university and were still in the transfer portal. He even tweeted a photo of the dinner, which is what caught the NCAA's attention.
The meeting was reportedly arranged by Meier, who asked one of her assistant coaches to reach out to their prospective players and tell them about Ruiz, who has signed over 100 Hurricane athletes to NIL deals.
According to the NCAA's breakdown of the situation, the dinner between the parties was not, ostensibly, to discuss NIL deals, but Ruiz "promoted the school by speaking about his children's experiences as student-athletes at Miami, and his admiration for the school and the surrounding community." The dinner took place before the Cavinders made their official visit to campus in the summer of 2022.

What kinds of penalties are the NCAA handing down?
Miami now has to serve a year of probation, pay a $5,000 fine plus one percent of their budget, has reduced visits and in-person recruiting days, and three weeks of probation once the transfer portal window opens (which basically just means they can't talk to potential transfers for the first three weeks of the portal period).

The Cavinder twins were not penalized, as the NCAA has stated it will not penalize athletes for NIL-adjacent infractions.

There are a few reasons why this is a big deal: The first is that it is the first NIL-related infraction being reported by the NCAA. When NIL legislation was created and athletes started to get deals, no one really had any idea what the future, including the handling of infractions, would look like.

Now that we have our first reported infraction in the post-NIL world, the game may change for athletes and sponsors alike. Will there be stricter rules surrounding the dealmaking process? Will there be new protections put in place against athletes engaging in a situation like this? What if the meeting with a prospective NIL sponsor and an athlete falls into one of these levels of violation and they have no idea? The protection of athletes from things like this should be more of a priority than ensuring compliance. Some of these kids are 18, they have no clue what a good or bad business deal is. Ruiz was named NIL's most impactful person in 2022. With a title like that, he has to know what goes into a good deal that is beneficial to both parties. You have to think that he would know better, right?
What Ruiz did was (arguably) abuse of the power he holds in the Miami athletics community. He allegedly schmoozed the twins up at dinner to talk about how great Miami athletics are, and then was able to give them a deal once they transferred. He isn't a coach, or directly involved in women's basketball, and thus, supposedly, has no place doing something like this. But isn't this exactly the type of influence the NIL system anticipated athletes taking advantage of?

Ruiz, meanwhile, told ESPN that the NCAA's NIL ruling regarding Miami has no bearing on how he conducts himself vis-a-vis student athletes:
"It has little to no substance and no effect on me at all. It's mostly focused on the coach, and that's unfortunate. But it doesn't affect me or my business. If it did, I'd be suing the NCAA and it wouldn't be a good day for them."
The first NIL infraction is in women's hoops? Really?
The other problem is that this is the first NIL infraction case. And it's focused on a women's team. Really? With all the male athletes getting seven-figure deals in college football and basketball? The Cavinder twins have responded to this directly on TikTok, with the caption being "Dear NCAA, scared that female athletes have value?"

We have seen consistently that female professional athletes make less money than their male counterparts and the campaigns to change that. We have seen women create professional leagues of their own, like the Premier Hockey Federation, in order to create pro opportunities for as many athletes as possible. But most pro women don't make enough money to be "just athletes" full time — or they have to play overseas to pad their income.

NIL is great for female athletes because it allows them to profit from their image and their skills. Female college athletes even include some of the largest NIL earners, like Olivia Dunne of LSU gymnastics or Paige Bueckers of UCONN.

The Cavinders are in the conversation as some of the highest earners as well, having deals with Boost Mobile, Core Hydration, and Ruiz's company, LifeWallet. It's estimated they made $2 million from NIL deals alone in 2022. This being the first infraction could have some effect on the future of NIL deals for female athletes. Deals could become harder to obtain, they could be only given to superstars or companies could stop partnering with athletes altogether.

Gary Miller, the NCAA's Committee of Infractions chief hearing officer, told SI that the ruling in this Miami case should not be viewed or serve as a precedent. Even if it doesn't, it is still something that will alter the course of NIL. Will we see more violations or will the rules change to make violations less likely to occur? Will we see athletes breaking off deals or choosing to not engage in them?

What type of conversations stem from the Cavinders' TikTok, and the NCAA's response, remains to be seen. This is territory college athletics has never seen, so the path to clarity is a bit murky. This is not the end for NIL infractions, but does it mean we are seeing the beginning of the end of college athletes, particularly female athletes, making bank off NIL deals?