Today, the U.S. women's gymnastics team, which entered the Olympics as the heavy favorite for team gold medal, did what every commentator predicted it would—won the title in a commanding fashion, topping the Russians by five points, 183.596 to 178.530.
That point spread belied just how close it got at one point during this competition. The Americans rocketed into first place on the vault, as all of them stuck their Amanars—with McKayla Maroney doing perhaps the most perfect one ever. But on the uneven bars, they gave much of the lead back. The Russian team, which has superior difficulty scores on the apparatus, performed incredibly well to move within 0.4 points of the United States.
Then the U.S. went to beam and all three Americans hit, with nothing worse than a few small wobbles. Russia's Aliya Mustafina had breaks on several elements, and Viktoria Komova took a significant step on her dismount. That sent the United States into the floor exercise, the final event, with a lead of more than a point. It would have taken Russian perfection and mistakes from the American team to flip the standings.
Neither thing happened. The Russians weren't even close to perfect. Mustafina had a solid opener, but then Anastasia Grishina nearly put her hands down on her opening pass, then had to bail on her second tumbling run, scoring in the 12s. Then Ksenia Afanasyeva, the reigning world champion on the floor, crashed to her knees on her final pass.
And the Americans didn't put a foot wrong. Gabby Douglas, who contributed four routines for the team tonight, corrected her out of bounds error from the preliminary round. Jordyn Wieber also stayed in, and performed joyously throughout. Finally, team captain and floor anchor Aly Raisman was practically in tears of joy as she landed her final double pike. That's when the celebration began in earnest.
G/O Media may get a commission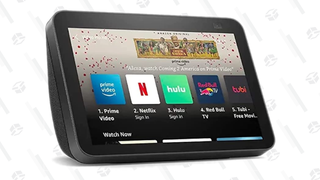 This team entered as the defending world champions. But that was not a guarantee of victory. Twice before this, in 2004 and 2008, the Americans came in as world champions and left with the silver.
What was different in London? Health, first of all. This team didn't endure many major injuries over the last year. In 2004, Courtney Kupets and Courtney McCool were both hampered by injuries after dominating the domestic qualifying events. In 2008, the situation was even worse: Chellsie Memmel broke her foot during pre-Beijing training, and Samantha Peszek sprained her ankle during preliminary warm ups. And even Alicia Sacramone, the team captain, was taped up and hurting all over.
This time around only, Maroney seemed to report any sort of physical problem, a relatively minor issue with her toe. She rested most of the week and only participated in podium training before the start of competition. Her vaults are assured enough that she didn't need intense practice.
In 2008, the Chinese team had more difficult programs than the rest of the field. This time, it was the United States that had prepared routines with an impressively high degree of difficulty. And unlike other teams, which were testing out new skills in front of the Olympic audience, the Americans didn't need to chuck any of their hard moves. They had already performed most of their elements for almost a year, in pressure situations. There was little doubt as to whether they would hit when it mattered most.
The team was well-trained, healthy, and supremely confident. Many other teams would've crumbled under this sort of pressure; they seemed to revel in it. This group didn't miss a single routine—that's 28 hits so far at the Games.
After Jordyn Wieber was beaten out of a spot in the all-around by her teammates, there had been speculation about her state of mind for the team final. There was something unfair and inappropriate in this, and it seemed unlikely that a male athlete would have had his resolve questioned under similar circumstances.
But Wieber nailed her sets. And she cheered her teammates on throughout. She was more emotive and expressive than I'd ever seen her during a meet. Her smile didn't just appear after it was obvious that the U.S. had it in the bag. She started smiling the moment her name was announced at the start, and she never stopped.
For a handy master schedule of every Olympic event, click here.
Dvora Meyers is a freelance writer based in Brooklyn. Her work has appeared in The New York Times, Slate, Tablet and elsewhere. She writes about gymnastics and Judaism at Unorthodox Gymnastics, and she is the author of Heresy on the High Beam: Confessions of an Unbalanced Jewess. She blogs about woman-y stuff over at The Anti-Girlfriend.