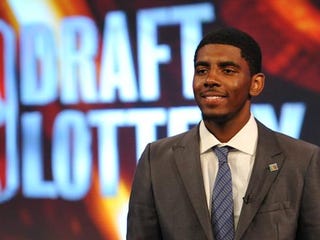 Every morning, the fine folks at Sports Radio Interviews sift through the a.m. drive-time chatter to bring you the best interviews with coaches, players, and personalities across the sports landscape. Today: The same question, asked many different ways.
Kyrie Irving joined The Dan Patrick Show to discuss what he thinks will happen in tonight's draft, what he's heard from Mike Krzyzewski, why he's not concerned about a foot injury that kept him from playing most of his freshman year at Duke, his strengths and if there will be any pressure to be the next LeBron.

Are you going to Cleveland?:
"I'm not sure yet."
They haven't told you?:
"Nope."
Have you shopped for housing in Cleveland yet?:
"No, I have not shopped for housing in Cleveland yet."
How much pressure will there be to be the next LeBron James?:
"I'm not really looking to be the next LeBron James unless I grow about six inches in the next two hours or the next week or so. Right now, I'm just really looking forward to contributing to any team that wants to take me."
Do you have a Cleveland Cavaliers colored tie for the draft?:
"No, no Dan, I'm not having a Cleveland Cavalier-colored tie on."
Do you own one that you'll be able to wear at your first press conference?:
"No, I don't have a Cleveland Cavalier tie prepared."
What's your number in Cleveland?:
"In the NBA, Dan, I think hopefully my number will either be number 1 or number 11."
This post, written by Eric Schmoldt, appears courtesy of Sports Radio Interviews. For the complete highlights of the interview, as well as audio, click here.
More from Sports Radio Interviews
• Dirk Nowitzki has finally slept since his championship.
• Rory McIlroy hasn't.
• Mike Ditka never sleeps.