ESPN NBA writer Ric Bucher set the World Wide Leader's legion of writers, editors, and on-air personalities with raging Twitter habits into a collective shit-tizzy with one of his updates. Now, a revolution is afoot! Not really.
Here's what Bucher said:
The hammer just came down, tweeps: ESPN memo prohibiting tweeting info unless it serves ESPN. Kinda figured this was coming. Not sure what this means butI...I'm probably violating some sort of policy just by telling you. In any case, stay tuned.
Couple things about this memo that was first circulated to many of ESPN's on-air talent. Most of the people I've spoken to who have received it would not even consider forwarding it in its entirety and fear it's an elaborate Norby death trap that will trigger an automatic suspension if they compromise its stern warnings. (Some even resorted to the "NO FUCKING WAY" response when I asked if we could publish it; one person even answered my email with single-word subject lines and only in Spanish.) Like, this ain't no bike rack memo, homeslice!
But then, in an elaborate display of mindfuckery, the ESPN PR folks sent it out to interested parties anyway...
ESPN'S ADDITIONAL GUIDELINES FOR SOCIAL NETWORKING
ESPN regards social networks such as message boards, conversation pages and other forms of social networking such as Facebook and Twitter as important new forms of content. As such, we expect to hold all talent who participate in social networking to the same standards we hold for interaction with our audiences across TV, radio and our digital platforms. This applies to all ESPN Talent, anchors, play by play, hosts, analysts, commentators, reporters and writers who participate in any form of personal social networking that contain sports related content.
ESPN Digital Media is currently building and testing modules designed to publish Twitter and Facebook entries simultaneously on ESPN.com, SportsCenter.com, Page 2, ESPN Profile pages and other similar pages across our web site and mobile platforms. The plan is to fully deploy these modules this fall.
Specific Guidelines
· Personal websites and blogs that contain sports content are not permitted
· Prior to engaging in any form of social networking dealing with sports, you must receive permission from the supervisor as appointed by your department head
· ESPN.COM may choose to post sports related social media content
· If ESPN.com opts not to post sports related social media content created by ESPN talent, you are not permitted to report, speculate, discuss or give any opinions on sports related topics or personalities on your personal platforms
· The first and only priority is to serve ESPN sanctioned efforts, including sports news, information and content
Assume at all times you are representing ESPN
If you wouldn't say it on the air or write it in your column, don't tweet it
Exercise discretion, thoughtfulness and respect for your colleagues, business associates and our fans
· Avoid discussing internal policies or detailing how a story or feature was reported, written, edited or produced and discussing stories or features in progress, those that haven't been posted or produced, interviews you've conducted, or any future coverage plans.
· Steer clear of engaging in dialogue that defends your work against those who challenge it and do not engage in media criticism or disparage colleagues or competitors
· Be mindful that all posted content is subject to review in accordance with ESPN's employee policies and editorial guidelines
· Confidential or proprietary company information or similar information of third parties who have shared such information with ESPN, should not be shared
Any violation of these guidelines could result in a range of consequences, including but not limited to suspension or dismissal.
G/O Media may get a commission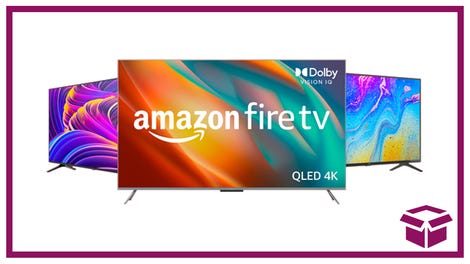 Ooh. stunning.
New Amazon Fire TVs
Thing is, this memo has been in the works for a while, I'm told, and ESPN wouldn't enact such an over-arching policy based on one incident. So, no, Mark Schlereth's outburst at Ocho Cinco was not the final straw. This policy was actually being cobbled together long before that, in the hopes that Matthew Berry would stop closing down bars with Tucker Max. (Kidding!)
But — wasn't Bucher in violation of the policy by pushing the initial story out there? One skittish ESPN Twitterer described it as "flagrantly testing" the new policy. But it's doubtful he'll get suspended over it*(UPDATE). In fact, I'd be surprised if this whole memo wasn't more than just a well-crafted scare tactic just to let employees know that they can't talk about impending baseball trades or make fun of Mariotti's plastic surgery or start telling Dead Baby Jokes on Twitter just because it's technically a personal account. Even when you're not working, you're still part of the World Wide Leader. Act accordingly.
Now this could change the tenor of some of our favorite ESPN Twitterers, but it probably won't deter them from doing it all the time anyway. But the policy is still a little restrictive and (hate this word but appropriate) draconian (puke) because Twitter has turned into a fantastic gateway media for many of those guys who just make a habit of breaking news and don't want to take the chance of getting beat by a competitor if there's a lag in the editorial machine on-air or online. Sucks for you, Mortensen! So ESPN will have to reevaluate this policy at some point — or else they're going to get squashed on a lot of stories by competitors even when they don't involve civil suits or rape cases against Super Bowl quarterbacks. Ahem.
Most importantly — what will happen to Sports Guy Unplugged?
UPDATE: Hmm. Bucher might be in trouble? Developing...