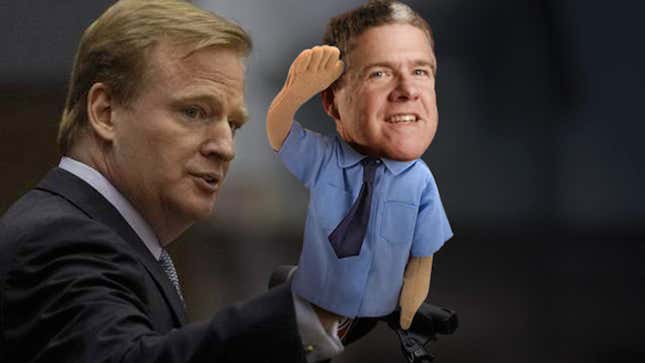 On July 29, SI.com's Peter King, who covers the league from the centermost pleat on Roger Goodell's khakis, reported that "NFL and some Ravens officials" had seen unreleased security-cam footage of the Ray Rice altercation from within the elevator. At the time, it was important for the NFL to establish that it was taking great pains to investigate the incident. Here's how King wrote it up:
There is one other thing I did not write or refer to, and that is the other videotape the NFL and some Ravens officials have seen, from the security camera inside the elevator at the time of the physical altercation between Rice and his fiancée.
Today, the videotape in question was leaked, and there was nothing exculpatory in it to be found. Peter King writes:
If league officials saw this video before issuing the two-game ban for Rice, all the scorn that's been heaped on Roger Goodell and his colleagues will be deserved.
Doubt has crept in, just when doubt has become useful for the NFL. It's a long way to travel to get from "have seen" to "if ... saw," but Peter King got there, somehow.
Update: King has a remarkable statement in which he more or less lights his journalism career on fire:
To: Our readers.

From: Peter King, editor-in-chief, The MMQB

An addendum to the Ray Rice coverage:

Earlier this summer a source I trusted told me he assumed the NFL had seen the damaging video that was released by TMZ on Monday morning of Rice slugging his then-fiancée, Janay Palmer, in an Atlantic City elevator. The source said league officials had to have seen it. This source has been impeccable, and I believed the information. So I wrote that the league had seen the tape. I should have called the NFL for a comment, a lapse in reporting on my part. The league says it has not seen the tape, and I cannot refute that with certainty. No one from the league has ever knocked down my report to me, and so I was surprised to see the claim today that league officials have not seen the tape.

I hope when this story is fully vetted, we all get the truth and nothing but the truth.
Image by Jim Cooke