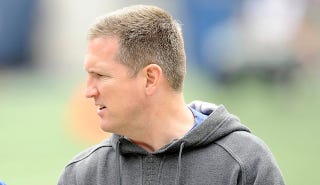 Buccaneers fans have had a lot to complain about this year, and one of the things that has elicited the most qualms from them is the perceived ineptitude of defensive coordinator Bill Sheridan. Many have pointed out that Sheridan's defense relies too heavily on zone coverage, thus negating cornerback Darrelle Revis's primary skill: the ability to lock down receivers in man coverage. Last week, Sheridan decided he'd heard enough criticism, and issued a flippant invitation to fans.
Via JoeBucsFan.com:
What I invite them to do is, join us. I get here about 5:20 a.m. every single morning. And they are more than welcome to hang around until 11 p.m. for the first four nights of the week and they can help us put the whole gameplan together.

We have all the free Cokes you would want in the building. And we'll be happy to take their suggestions on how we could better use Darrelle. Trust me when I tell you we painstakingly game plan how to best use all our personnel. Not just Darrelle.
As you might have expected, some fans decided to call Sheridan's bluff:
Not invited in? That's pretty cowardly, Sheridan. The last time I checked, a Schiano Man doesn't hide from twerps who have never played the game.