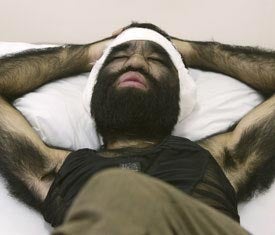 One of our favorite rituals of the Olympic Games is the selection of the people to carry the Olympic Torch. The best is still O.J. Simpson at the 1984 Summer Games. Bet Peter Ueberroth would have loved to have that one back. It's possible China might have a particularly fun carrier itself.
Yu Zhenhuan, one of the hairiest men in the world (he has hair over 95 percent of his body), would like to be considered.
"The Olympics belong to everyone — the common people and those with abnormalities included," the report quoted Yu Zhenhuan as saying from his home in China's northeastern province of Liaoning. "First I am a celebrity, inside and outside of China," he added. "Secondly, I think my experience in coping with a disfigurement ties in with the notion of the Olympic spirit."
We're not sure he's gonna have the chance, but one thing we do know: Keep this guy away from Michael Vick.