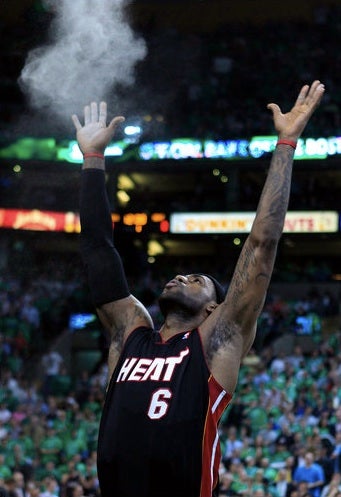 FreeDarko's Bethlehem Shoals, a regular contributor to NBA FanHouse and co-author of The Undisputed Guide to Pro Basketball History (visit the FreeDarko store, too!), is keeping a game-by-game diary of the Heat's season — the one you're pretending not to care about.
Result: Celtics 88, Heat 80
Record: 0-1
"Sorry if everyone thought we were going to go 82-0. It's just not happening."
That was Dwyane Wade (he's the superhero, not the introspective braggart), speaking after the Heat's loss to those nasty Celtics. That said, they will still play 82 games, maybe even more. I will write about each and every one of them. After last night, I am considerably less excited about this assignment.
Strip away, for a second, all this summer's talk about how the Heat spelled the downfall of Western civilization, the rising up of the young, gifted, and black, or a total betrayal of everything that great athletes are supposed to believe about themselves. If nothing else, Miami was supposed to be good. If there were going to be problems, they would at least be grandiose, and interspersed with moments of face-shattering basketball play. How could James, Wade, and Bosh not deliver theater — even it was a theater of pain and mixed blessings?
In other words, even if we detested the Heat as a media circus, we were all excited about them as a basketball spectacle. ESPN's Heat Index met with near-universal ridicule, but what if it had simply been tailored to their on-court exploits? Theater is not the same as soap opera; the drama we all crave in sports is quite different from the Mary J. variety. Rather than ruining the sport by furnishing the ultimate distraction, the 2010-11 Miami Heat were going to renew interest in the game itself.
You don't know how many X's and O's conversation I had about them during the offseason, and I can barely diagram a pick-and-roll.
The problem with the Big Three's inaugural outing wasn't that they lost to the Celtics. Boston is damn good, and more importantly, the C's make other teams play their worst. No, what troubles me — selfishly, as someone gearing up to spend all fucking year with them — is how uneventful it was. From a competitive standpoint, it's certainly good for the Heat that even with Wade a non-factor, and the James-Bosh connection we saw in the preseason never quite clicking, they were able to come within three points late. That's why LeBron James is the game's most valuable player, caps or no caps. What made it one of the biggest disappointments of my adult life (other candidates: the time I found out that the funny little Jewish man my wife and I met in the cemetery was a registered sex offender; the Nick Hornby book I bought in hardcover; Woody Allen's British period) was how utterly blank a performance it was by the Heat.
There wasn't even tension between James and Wade, the two principals who both supposedly need the ball at all times — neither of them much seemed to want it. And not in an unselfish way; both All-Stars seemed to be waiting for a cue card to drop from the ceiling of the arena. Too bad it wasn't a home game. Who ended up taking the last shot? That would be LeBron, if we're talking about the last shot before the shot clock buzzed. That was the leitmotif for much of the Heat's first half: a totally impotent group of superstars, with James haphazardly putting up jumpers to bail them out. And because he's LeBron James, several of these shots went in. Then came LeBron's 15-point third quarter, which could have taken place on the most desolate Cavs squad, and even that was dispiriting. There were no brilliant exchanges of roles and responsibilities to rattle the Celtics' schemes; no ruthless fast breaks; and there were only brief flashes — er, patches — of rangy, attack-dog defense. Sir Charles put it best, and I'm sure he recognized the cruelty of this statement: "They're a jump-shooting team, and they can't get out on a run." This was not the Total Football in hightops (yes, I had that conversation several times) that we had been promised.
I know that the word "meme" now refers only to funny videos, but I remember that at one point, it could also be an idea. Here are some memes (for lack of a better word) that I've heard over the last 12 hours, some of which I came up with myself for the sake of attracting Twitter followers: Wade should come off the bench; the Heat should have gone for Amar'e; Bosh can't run and plays soft; Riley is about to take over from Erik Spoelstra; Mike Miller is the key to the kingdom; preseason really does matter. To me, all this seems like an attempt to alleviate the boredom, even disappointment, we felt last night. It's kind of like treating the symptom; after the Heat failed to deliver that good kind of drama, we were forced to fall back on the old, tawdry variety. Because we are powerless to make the pieces fit ourselves. Without that, there's no way to make this about basketball. We'll be stuck moving in the opposite direction again.
Fine, so maybe Wade's role and Miller's importance represent basketball problems. Yet the Heat without Wade and James together are not only a horrific compromising of what could be, but also a recipe for unease — or at least a lot of questions about it from the press corps. Miller is underrated, and yet when he's necessary for James, Wade and Bosh to engage us with their play, he has officially crossed over from dork favorite to magical white boy talisman.
On the other hand, maybe it was just the Celtics. Maybe they are that good and have taken on the role of universal spoiler that the Spurs played at their most aggravating. That's what it felt like when they closed out LeBron's career in Cleveland in last year's playoffs. Plus, they have Kevin Garnett; Shaq playing like he's not dead yet (their relationship is both dispiriting and endlessly amusing, like a sitcom with Ares and Poseidon); and Kendrick Perkins still on the mend. That's size and then some. Granted, the Heat have Jamaal Magloire and Dexter Pittman — a veteran 7-footer and rookie big boy — but neither played last night. Against Boston, Joel Anthony and Bosh just wouldn't cut it. Imagine what happens when you add Perkins to the mix.
To hammer this point home even further: If point guard is now the league's most important position, as some would argue, this game pitted All-Star Rajon Rondo, one year older and better, and out for blood after a mysterious exit from Team USA, against Carlos Arroyo/Mario Chalmers. LeBron eventually took over those chores, but this wasn't James deciding he wanted to be the next Magic Johnson. As with his god-awful adventures in the post last night, it was out of necessity, not strategy.
Tonight, it's the Sixers. That should be fun, and the Heat should blow out a Doug Collins team that is somehow both crowded and thin — if prone to fast-paced play as a masking agent. For the Heat to matter to basketball, first, there must be basketball. We have to feel like they're all on the same court together. What's troubling is that, since you can't teach or engineer chemistry, the missing preseason experience shouldn't have affected this at all.
That's what I'll be looking for tonight. If it's not there, I will cover my head and get ready for two news cycles worth of "who's zoomin' who?"
Bethlehem Shoals is a founding member of FreeDarko.com and a regular contributor to NBA FanHouse. You can buy The Undisputed Guide to Pro Basketball History and lots of other stuff at the FreeDarko store.