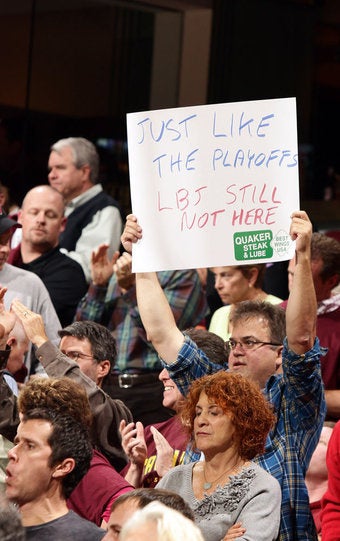 FreeDarko's Bethlehem Shoals, a regular contributor to NBA FanHouse and co-author of The Undisputed Guide to Pro Basketball History (visit the FreeDarko store, too!), is keeping a game-by-game diary of the Heat's season — the one you're pretending not to care about.
Results: Heat 97, 76ers 87; Cavaliers 95, Celtics 87
Record: 1-1
Cavaliers record: 1-0
"I was a little shocked at how quickly it ended ... But that is how life goes in the NBA."
That was former Cavaliers coach Mike Brown, speaking with the NBA TV crew. Conventional wisdom, and most common sense, held that the loss of LeBron James would cripple the Cavs, blasting them back into Cleveland basketball's Stone Age so completely that you'd half-expect Austin Carr to take the court and break something. New coach Byron Scott had taken the job before James had revealed his plans; point guard Mo Williams contemplated retirement. Owner Dan Gilbert could only express himself in a font designed for children and the mentally disadvantaged. There were riots in the street and fire in the sky. After the loss to Boston, LeBron reminded reporters that "Rome wasn't built in a day." It wouldn't take a student of history like Amar'e Stoudemire to tell you that empires fall much faster, and with much more violence.
It's a basic rule of physics — I know these basic rules because basketball discourse alludes to them all the time — that for everything LeBron James does in Miami, there is an equal and opposite reaction back in Cleveland.
At least that's how it's supposed to work. LeBron regularly defies the laws of physics on the court — again, something I know to be true from reading a lot about basketball — so it follows that the old rules wouldn't hold when it comes to his effect on franchises, cities, and populations of endangered birds. Against the Sixers last night, the Heat looked more assertive, more engaged. James Jones hit six threes, and at some point, teams are going to have to stop giving him, Eddie House, and Mike Miller (when he returns) those open looks. Of course, if both James and Wade had previously found ways to take on whole teams without the luxury of dead-eye shooters, it's not clear why together, with Bosh, this kind of cover would be necessary.
Regardless, it allowed Wade to find some room and finish with 30; LeBron turned it over nine times, as opposed to Tuesday's eight, but I'll take it as a sign that he was trying things, taking chances. Ever look at the turnover numbers for Kidd or Nash? In a game where ideas seem to be percolating, I'll buy this rationale. He didn't put up huge numbers, and yet got more than a few easy shots around the basket that didn't fall; he and Wade are starting to get their 'oop connection down, too. While Bosh only went for 16 and 7, his plus/minus was +25, best on the team. More importantly, he looked like an asset waiting to be converted, not a liability. It was against the Sixers, who are probably not as bad as they looked nor good enough to count as a real test. Still, if you're watching every single Heat game this season, it was an encouraging sign. Whether something has to be built (like Rome), or whether it's just a matter of the obvious coming into focus, well, that remains to be seen.
There was a woman in the crowd with a "Cleveland Will Never Forget" sign. I couldn't tell if she was an aggrieved Cavs fan who had bought a ticket to make sure her voice was heard, or a Philly native sympathetic to any and all underdog cities.
The real news, though, was from the benighted Quicken Loans Arena, where Dan Gilbert's Wine and Gold Marauders took on the Boston Celtics — the team practically designed to foil the Heat. I'll spare you the suspense, or the thick description: Cleveland won 95-87, despite the absence of Williams. Steven Tyler of Aerosmith was in attendance. Antawn Jamison had this to say: "This was for the city. It was for the fans to let them know the Cavs will survive and this is a place where you can still watch good basketball. And most of all, you can watch a team that wins." Jamison came to the Cavs at last season's trade deadline, freed from the moribund Wizards to seek a title with LeBron and help convince him to stay on. He is one of the league's true class acts, as they say in the pictures.
You would have thought that, given the current state of the Cavaliers, this win would be looked upon as the fluke it was. Instead, it's the biggest NBA story of this young season, far more important than Blake Griffin's bombastic debut or Monta Ellis's redemption-through-scoring binge. Early on, the transitive property prevails, because fans have little real data to go on. The Celtics beat the Heat, ergo, the Cavs beating the Celtics was practically identical to kicking LeBron James right between his dumb-ass eyes. Doc Rivers said that Cleveland fans were stopping him on the street to shake his hand. For one day, the NBA season didn't feel like a thousand-week slog, and it was governed by the rules of the BCS.
It turns out that LeBron James really isn't like physics. He's more like outer space. James is the sun, and cold, dead Cleveland, his moon — appearing to shine down on us, sometimes just as brightly, or at least bright enough that you forget it's all reflected light. Every LeBron story is also a Cavs story; every Cavs story can be tied back into LeBron. I find myself in the habit of still tagging my own stories about LeBron with "cavs" — hey, maybe Gilbert and the fans were right. He really does belong to them.
If James and Heat flame out, it will only light up Ohio more brightly. Like that Facebook guy, no longer do they have to ask, "When will he take over the game?" Thankfully, that's somebody else's problem now.
Bethlehem Shoals is a founding member of FreeDarko.com and a regular contributor to NBA FanHouse. You can buy The Undisputed Guide to Pro Basketball History and lots of other stuff at the FreeDarko store.
Top image via the Cleveland Plain Dealer. H/T Lane.