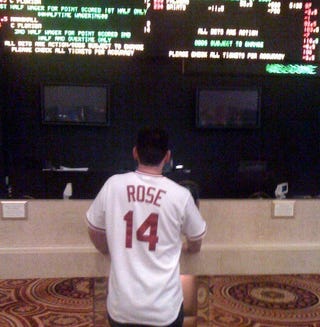 Got an image you'd like to see in here first thing in the morning? Send it to tips@deadspin.com. Subject: Morning crap.
Reader Ward writes:
"I was in Vegas with some buddies last weekend [Halloween Weekend] and we saw this guy and his buddy playing craps at Caesars. This guys was pretty strong with the dice and we all won a bunch of $ off his throws. Later I saw him at the sports book placing a World Series bet. I thought the image was a classic."
Makes sense. I mean, you wouldn't go to the stadium without wearing the jersey of your favorite player, right? So why would you to Vegas without honoring and drawing inspiration from the legendary gamblers of our time? Unless this is actually Pete Rose Jr., in which case it's just sad.
I wonder if he apologized in advance for betting on baseball.
* * * * *
Has anything good ever happened on a Tuesday? Let's try to change that.