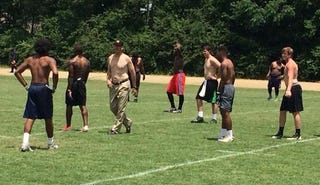 Michigan coach Jim Harbaugh's holding a satellite camp in Alabama, and the boys must be getting rowdy, because the khaki master himself took off his shirt while running practice.
If that photo wasn't enough, here's more shirtless Harbaugh, including video of him running around during some game:
What a loon.
Top photo via John Talty
---
Contact the author at samer@deadspin.com.