The Dodgers just announced that their starting pitcher for tomorrow's game agains the Mets will be Julio Urias, a 19-year-old prospect who has pitched a grand total of 45 innings at Triple A. That's not a typical path to the big leagues, and that's because Urias is anything but typical.

The Dodgers signed Urias during a scouting trip to Mexico in 2012. They were there to see Yasiel Puig and Julian Leon, but stumbled upon Urias, then just 15 years old, throwing a fastball in the low 90s and dominating hitters much older than him. There were strange rumors that Urias had cancer—his left eye droops because of a childhood surgery to remove a tumor—but the Dodgers signed him to a $450,000 contract.
Urias has done nothing but dominate since then. He ruined hitters as a 16- and 17-year-old pitching at Single A, and posted a 2.77 ERA and 74 strikeouts as an 18-year-old in Double A. The Dodgers started him in Triple A this season, where he's struck out 44 in 41 innings and allowed just five runs. Performances like this have given him a mythical quality, even among his opponents. Back in 2014, Yahoo's Jeff Passan talked to a few guys who had faced Urias, and got great quotes like this one:
"I remember last year I faced him in Fort Wayne," said Hunter Renfroe, the Padres' first-round pick in 2013 out of Mississippi State. "I'd just gotten moved up and was hearing about this 16-year-old they had. I was like, a 16-year-old? No chance he's any good.

"I'm hitting third. And of course the first two guys who go up there, he throws three straight fastballs by them. I'm wondering what happened. They didn't even look that hard. So I get up there and watch the first pitch. That one kind of got on me a little bit. Next pitch I swung and fouled it straight back. I'm thinking, 'I'm on you now.' Next pitch is a curveball, and I walked back to the dugout."
You can find a few clips of Urias pitching on the internet; this one, from a May 4 start this year, is a pretty good snapshot of what he could be:

That's a 19-year-old kid dropping a back-door curve on the outside corner to steal strike one, zipping in a high fastball for strike two, and then burying the batter with a wipeout slider.
G/O Media may get a commission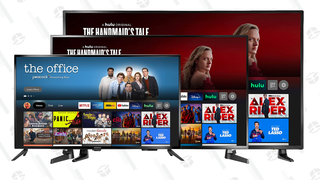 Up to 44% off
Prime Early Access - Insignia Fire TVs
There's an added bit of fun in the fact that Urias is being called up by the Dodgers, who introduced the world to another 19-year-old Mexican phenom named Fernando Valenzuela 36 years ago. Nobody's saying Urias is guaranteed to be the next Valenzuela, but if you have the chance to watch his first start tomorrow, you shouldn't pass it up.