Football and baseball have a certain way of derailing even the most meticulously planned seasons, but (barring a Derrick Rose knee explosion or a Kevin Durant foot-shatter) basketball tends to flatten all mitigating factors and let its talent rise to the top. Last year's Rockets team accomplished nothing aside from putting this theory to the test. Coming off a conference finals appearance, they turned the concept of uninspired and dysfunctional basketball into a five month-long performance art piece, getting their coach fired 11 games into the season and ending it by getting wiped out of the first round by a Warriors team that barely even required the services of Steph Curry.
Jokic? Embiid? The NBA MVP is obvious... right? | Keep it a Buck(et)
This year promised to be better, for reasons as simple as finally breaking the awkward forced marriage between James Harden and Dwight Howard, and Harden finally completing leadership functions as basic as working out with his teammates in the offseason. But last night's thrilling back-and-forth victory over a Warriors team that is regenerated in its own right was confirmation that the fun-and-gun Rockets are not just back, but probably better than ever.
It has started with Harden, of course, who is now leading the NBA in assists while continuing to press his nose up against the 30 points per game mark. If you round his numbers up just a hair, he's averaging 29 points, 12 assists and 8 rebounds each time the ball is tipped. Even accounting for Houston playing at a sprinter's pace, those are stats that not even LeBron has hit across a full season. In last night's game, Harden stacked up a 29/13/15 triple-double (in two overtimes), routinely making the sorts of plays pulled off by only the best, most creative players in the world. Here he is with the game tied and 50 seconds left in the first overtime, whipping a pass that could also double as a sleight-of-hand trick David Blaine might want to copy:
G/O Media may get a commission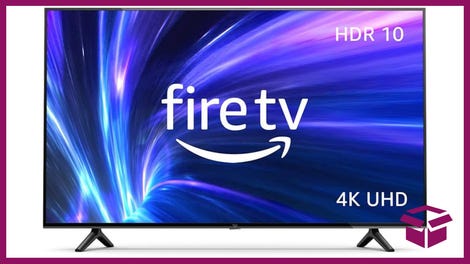 42% Off
Amazon Fire TV 50" 4K Smart TV
But even beyond Harden, Houston's roster looks like it has settled neatly into place. Ryan Anderson, an offseason splurge, has looked as good in the Mike D'Antoni offense as the basketball gods intended. He's shooting a career-high 42 percent from three, and last night he was even better, hitting five of his 10 threes while generally launching them indiscriminately from anywhere on Houston's side of the court. Previous incarnations of Harden's Big Top Rockets aimed to win the three-point battle not by having the best shooters but simply by shooting the most threes. They still do the latter, but also now pair one of the league's deadliest off-the-dribble long-range bombers (Harden) with one of its most consistent pull-up snipers (Anderson).
Last night was also a breakout game for two players who may be able to inject the Rockets with the kind of youthful verve they were clearly lacking last season. Corey Brewer, a staple of last year's clunky rotation, played just 13 minutes last night, and starting center Clint Capela—though an exciting young'n himself—played just 25. Their playing time was eaten up by Montrezl Harrell and Sam Dekker, two position-flexible jackknives whose wild-eyed reckless abandon is augmented by actual basketball skill. If you didn't see Harrell putting some righteous fury on James Michael McAdoo late last night, you may have at least heard it:
Combined, Dekker and Harrell put up 24 points on 10-19 shooting to go along with 18 rebounds, three assists, three steals, and a block. Dekker hit some open threes, was able to finish contested shots at the rim, and generally felt like a positive force within the game. It was a particularly good night for both players, clearly, but the Rockets already trust them and have so far seen their faith rewarded.
It's a long season, obviously, and Houston is not without flaws. But after the addition of Dwight Howard accelerated the Rockets out of the Western conference herd and then straight into a wall, this year's version of the team looks like it could fully deliver on the promise of James Harden as superstar. If the Thunder had to die, this may be the best of what we could have hoped to rise from the ashes.