The journey from "cheap Shaq punchline" to "competent role player on contender" continues straight through the playoffs, as JaVale McGee gave us the purest 13 minutes he might ever produce: 15 points (on 7-of-7 shooting!), five rebounds, and four blocks. Good for him, and for any sap watching, because McGee offered a glimmer of entertainment during this rout of a Blazers squad that shot 33 percent from the floor.
JaVale McGee did everything that JaVale McGee could be reasonably asked to do, plus some: he swatted weak shit out of the sky, handled lobs of varying degrees of difficulty, and even managed a smooth drop-step that drained the last drops of the Blazers' spirit:
True to form, right after doing these cool and useful things, McGee often hit the floorboards, or came very close. Even when playing his best basketball he has the footing of a baby giraffe plopped fresh out the womb. If he's going to fall down a lot, and he will, forever, he might as well learn to make the smartest (and funniest) decision while doing so:

G/O Media may get a commission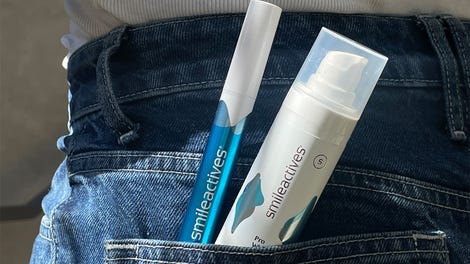 58% off
Whitening Powerhouse Pen & Gel Duo
With Kevin Durant sitting out with a strained calf, Draymond Green doing everything but score, and Steph Curry and Klay Thompson running dry—they shot a combined 12-of-35—the Warriors turned to their bigs—Zaza Pachulia adding 10 points of his own—and their bench. The Blazers are still missing the surly and injured Jusuf Nurkic, and couldn't manage much in the way of rim protection with Noah Vonleh or Meyers Leonard at the five. McGee continued to totter right by them and deliver his gawky, wonderful finishes. I am extremely here for the JaVale McGee redemption tour, so long as he never learns to stick a landing.