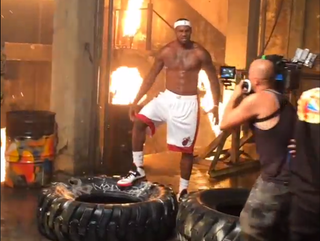 The Miami Heat are shooting footage for the team's pregame introduction video today, and someone has been posting behind-the-scenes clips on the team's Instagram page. We owe a debt of gratitude to that someone, because he or she has graced us with clips like this one:
I'm sure LeBron will look totally badass when this footage is crisply edited and set to a Jay Z song, but right now we can enjoy the contextless hilarity that is LeBron James flipping tires and roaring at a dude with a bandana tied around his face.
But LeBron's not the only one who gets to strut his stuff in this video! Let's check in with Chris Bosh, who is really bringing the energy level up a few notches:
OK, Chris Bosh. Very cool. Nice dribbling. Maybe Dwyane Wade can help us out?
Man, everyone besides LeBron appears to be having a terrible time at this video shoot. Maybe the other guys can get a turn on the rope thingies? Everyone looks cool and tough while whipping those bad boys around.