As they do every year, Sports Media Watch has compiled the ratings for the 50 most-viewed sports telecasts of the first half of 2012. What can we learn?
• Everything that's not football is a niche sport. The NFL is a monster. The top 12, and 14 of the top 16 programs were all NFL, with the only exceptions being the college basketball and college football title games.
• Seriously, the NFL is ridiculous. The time frame only includes one week of the regular season—and all four games that day, New Year's Day, made the top 30.
• People fucking love football. Can I say this enough? Laugh at the Pro Bowl all you want, and threaten to shut it down for lack of interest. The Pro Bowl drew roughly as many viewers as any of the Heat/Celtics conference finals games. MLB's All-Star Game, which no one would ever accuse of irrelevance, had 1.5 million fewer viewers than the Pro Bowl.
• Baseball isn't dead yet. Though there's no MLB postseason in this list's timeframe, Game 7 of last year's World Series was seen by 25.4 million people—more than any event besides the Super Bowl and the NFL's conference championships. Even Game 3, the least-watched of the World Series, would have been good enough for 33rd on this list.
G/O Media may get a commission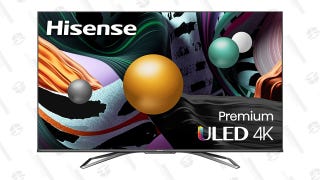 Save $350
Hisense ULED 65" Android 4K HDR Smart TV
• Three of the four BCS Bowls, plus the National Championship Game, plus the Cotton Bowl for some reason, all placed in the top 50. Remind me again why it took so long to get a playoff, and an extra ratings bonanza?
• The Stanley Cup finals averaged a 2.2 rating, with a 4.0 for the deciding Game 6. One day, hockey, one day.
The 50 Most-Viewed Sporting Events of 2012 (So Far) [Sports Media Watch]