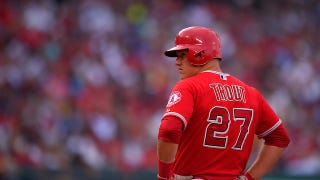 The MLB announced starters for the All-Star game while you were watching the first half of the Women's World Cup Final. These are the starting lineups as determined by the fan vote:
C: Buster Posey
1B: Paul Goldschmidt
2B: Dee Gordon
3B: Todd Frazier
SS: Jhonny Peralta
OF: Bryce Harper
OF: Giancarlo Stanton
OF: Matt Holliday
C: Salvador Perez
1B: Miguel Cabrera
2B: Jose Altuve
3B: Josh Donaldson
SS: Alcides Escobar
OF: Mike Trout
OF: Lorenzo Cain
OF: Alex Gordon
DH: Nelson Cruz
Of course, some of these players may miss the game due to injury. Cabrera and Stanton are locks to be out. Holliday is on the disabled list but may return to the Cardinals's lineup in time for the game. And after all the hullabaloo, only four Kansas City Royals made the starting lineup. Pour one out for Omar Infante.
Photo via Associated Press