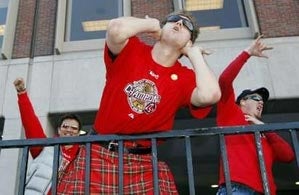 Oh, you've got to be kidding ... are we going to have another stupid controversy about who has the baseball the Red Sox won the World Series with? Please, no.
But yeah: Nobody knows where the ball is.
Jason Varitek caught the final strikeout Sunday night to complete a four-game sweep of Colorado, then tucked the ball in his back pocket as he ran to the mound to celebrate. Varitek said after the game that he'd give the souvenir to the team, but on Wednesday he said he gave it to closer Jonathan Papelbon.

"I already gave it to Pap," Varitek said. "It's out of my hands." Papelbon does not know where the ball is, his agent, Sam Levinson, said Wednesday.
Assuming Mientkiewicz doesn't have it, we're just going to assume that Bill Belichick got a hold of it, has painted a picture of Eric Mangini's head on it and ... well, we'll just leave the rest to your imagination.
Red Sox Missing Ball Again [Sports By Brooks]