The Steelers lost to the Broncos on Sunday in Denver, in a game that seemed to make no sense: They outgained the Broncos by more than 200 yards, with Ben Roethlisberger throwing for 462 yards—the fourth-highest total of his career. They lost largely because they turned the ball over four times, including twice right at the goal line, with Roethlisberger throwing a pick to a defensive lineman in the end zone with a minute to go to seal it. But in a way, the defeat made perfect sense: The Steelers, for whatever reason, tend to perform remarkably poorly whenever they play a game in the Mountain or Pacific time zones. And this has been true as far back as their 1970s glory days.
I'll get to the data in a bit, but let me digress for a moment to point out that I come from 100 percent Jagoff Yinzer stock, and that I'm a Steelers fan. The idea for this blog sprang from a conversation I had on Thanksgiving Day with my cousin, who was dreading the Broncos game because of the perception he had of the Steelers being sorry-assed whenever they play out West—Denver in particular. They once got Tebowed out there in the playoffs, fer'cryn'aht'lahd! Then, during Sunday's game, as the Steelers kept moving the ball but missing opportunities to put the game away, my cousin returned to the theme he had brought up three days earlier: "Well this is now officially a Steelers game west of the Mississippi," he texted.
After they lost, I decided to do some digging. What I found, with the help of Pro Football Reference's Game Finder tool, is that my cousin wasn't wrong. The Steelers are the NFL's winningest team since the 1970 merger: a .614 winning percentage, 30 playoff appearances, 23 division titles, eight conference titles, six Lombardi trophies (only the Patriots' 10 conference championships surpasses any of those).* But of the 17 NFL teams located in cities in the Eastern time zone, the Steelers are markedly worse in games played in the Mountain and Pacific time zones. It hasn't mattered whether Chuck Noll, Bill Cowher, or Mike Tomlin has been the head coach: Whenever the Steelers have played in Denver, Arizona, Seattle, Los Angeles, Oakland, San Diego, or San Francisco, they've been much worse than they are anywhere else. Which is weird! And there doesn't seem to be any logical way to explain why this is so. [Update: Most of the state of Arizona does not observe Daylight Savings, so some early-season Cardinals home games are actually the equivalent of being on Pacific time. Pro Football Reference lists all their games as Mountain time, so that's what was used for the data set below.]
Including Super Bowls 14 and 30, which were played in Pasadena, Calif., and Tempe, Ariz., respectively, and in which they went 1-1, the Steelers are 26-47-1 in the Mountain and Pacific time zones. That's a winning percentage of just .358, which isn't the worst among teams from the East, as this chart illustrates:
G/O Media may get a commission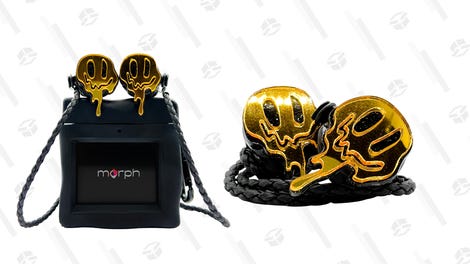 morph audio
Morph Earphones
The difference here is that the eight Eastern teams with worse records out West all have much worse records overall. Now look at the difference between the Steelers' overall performance in all games since the merger (through 2017) versus what they've done in Mountain/Pacific all these years:

So: The Steelers' winning percentage out West (.358) is right around the average for all Eastern teams (.375). And Eastern teams have been 7.1 percent more likely (minus-.115) to lose out West—which is actually lower than the 8.9 percent drop (minus-.145) for all visiting teams between 2002 and 2011. But look at how significant the disparity is for the Steelers: Their winning percentage in Mountain/Pacific is .256 lower than their overall winning percentage—significantly worse than any other team's. The Steelers are 199-185-2 (.518) in all road/neutral site games since the merger, per Pro Football Reference, so that .358 clip in Mountain/Pacific is another 16 percentage points worse than their overall road record.
Across the eras, Noll was 209-156-1 (.572) in all games, playoffs included, while Cowher was 161-99-1 (.619), and Tomlin is 131-70-1 (.651). All three coaches have won the Super Bowl. Yet in Mountain/Pacific games, Noll was 12-20-1 (.378), Cowher was 7-11 (.389), and Tomlin is 3-8 (.273). Again, weird.
This is how it breaks down for Mountain games, where the Steelers fare worse than the average for all Eastern teams in addition to having the worst differential among all Eastern teams:
And in Pacific games, only the Jaguars have a worse differential among Eastern teams:
There's been some research on NFL travel, and teams going east have historically been at a disadvantage. But there's no conceivable explanation for why the Steelers, consistently over nearly 50 years, have been so much worse when they go west. They're scheduled to play the Raiders in Oakland on Dec. 9. They've played just three games there since 1995. They've lost all three.
* An earlier version of this story incorrectly stated the Steelers had 22 division titles from 1970-2017.