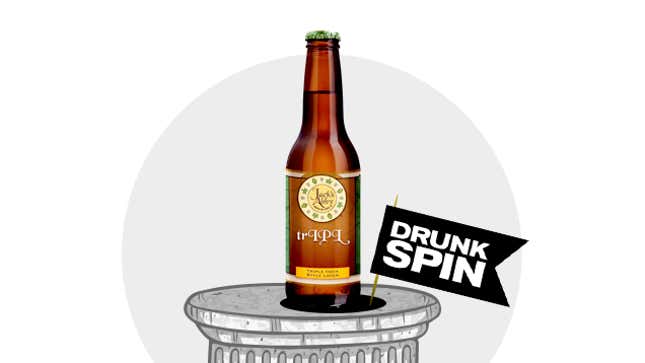 Last week, I told you Ale Asylum is the best brewery in Wisconsin, which is pretty rich when you consider that I've spent a grand total of four days in that state, during which time I didn't talk to any locals, venture a mile from my hotel, or try many of the state's most acclaimed beers. But I still feel okay about the post, because Ale Asylum is great and highly respected, and because I'm a dirty rotten click-whore who doesn't get paid to write headlines about "One Of The Better, Arguably Kinda The Bestish" beers.
But even though I've let myself off that hook, it made me nervous to blow quite so hard about a state I don't really know much about. Which, now that I think about it, leads to the disheartening conclusion that I'm not even qualified to name the best brewery in my own puny state. There are 57 breweries in Massachusetts, of which I've been to precisely some, and I'll be damned if I know how to decide which is the best.
Treehouse makes fantastic beer, but they do it in tiny batches in the middle of nowhere, so they're still not quite accessible enough to qualify as a populist-leaning blog's supreme Masshole juice. Cambridge Brewing Company does some great stuff—try the Audacity of Hops, or any of the weird one-off wild ales and gruits and such—but their core year-rounders are unspectacular. Night Shift in Everett is very good and getting better. I love some of what I've had from Worcester's Wormtown.
I'll always have soft spots for South Deerfield's Berkshire Brewing and Somerville's rapidly improving Aeronaut. Notch makes my favorite session beers. Idle Hands and Backlash have been impressive in my limited experience, though I'm not as familiar with them as I should be. I dig Pretty Things. And if you'd asked me before Thanksgiving, I might have told you South Boston's Trillium is the state's best. Their beer is almost uniformly excellent—so good, in fact, that I might have overlooked their pain-in-the-ass taproom situation and limited availability. But then they closed down for a month due to some licensing fuck-up, and even though they did manage to reopen yesterday, I can't tell you guys to go out of your way for a brewery that makes great beer but still has some significant operational details to sort out.
So yeah, man, I don't know. But I am certain that I'm a huge fan of Jack's Abby, an all-lager brewery in Framingham, and even though I'm not professionally qualified or emotionally prepared to call them the state's best beer-makers, I can confidently assert that their new triple India pale lager, trIPL, is the 2014 Drunkspin Lager of the Year.
G/O Media may get a commission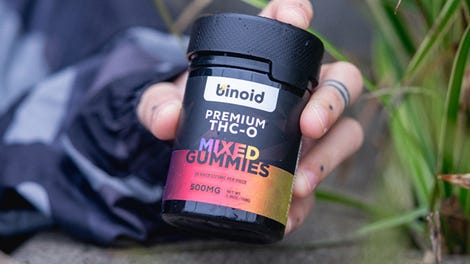 25% Off + Free Shipping
Binoid THC-O Gummies
The trIPL is 10-percent alcohol by volume and goes for about $7.50 per 16.9-ounce bottle. That's some strong, pricey lager! A tiny, little unfun part of me thinks that gigantic, hoppy lagers are an inch over to the gimmicky side of things, but I'm quite fond of Jack's Abby Hoponious Union, their base-model 6.7-percent-ABV hoppy pale lager, as well as their double India pale lagers Mass Rising and Kiwi Rising, so I had high hopes for the trIPL.
It pours a classy light bronze color with a thick, white head. The Columbus, Chinook, and Citra hops dominate the aroma with pine on top of citrus and stone fruit. There's orange, nectarine, and mango underscored by a bit of honey, with the earthy pine present throughout. The result is remarkably balanced yet complex, as a single mouthful alternates a couple of times between the fruit and the pine, with light lemongrass connecting it all before a sharp resinous bite takes over on the long finish.
Jack's Abby could well be Massachusetts's best brewer. I can't go all the way out on that limb, though, due to the aforementioned competition, and also my own status as the guy who invented pouring the leftover chili-making Schlitz into an absinthe-rinsed glass, which is, when you think about it, certainly brilliant and basically brewing. So I'm not the right person to single out the state's best beer producer, but I'm the only soul for the job of declaring that Jack's Abby trIPL is the best lager I've had all year.
---
This is Drunkspin Daily, the Concourse's adequate source for booze news, reviews, and bullshit. We'll be highlighting a beer a day in this space; please leave suggestions below.
Will Gordon loves life and tolerates dissent. He lives in Cambridge, Mass., and some of his closest friends have met Certified Cicerones. Find him on Twitter @WillGordonAgain. Image by Jim Cooke.
The Concourse is Deadspin's home for culture/food/whatever coverage. Follow us on Twitter.